Coliving vs. Flat-sharing – what is the difference?
Searching for a place to live can quite easily turn into an exhausting and time-consuming task, especially in big cities.
Some people will choose to flat-share with others, especially if they are new in town, but have you heard of 'Coliving'? It might be common to confuse these two terms as both entail living with other people, but there is a huge difference between the two in reality.
In a nutshell, Coliving makes finding accommodation easy, allowing you to discover the best neighbourhoods to live in, book a room or studio safely and live alongside a fantastic community of like-minded individuals, in a building full of common spaces like coworking spaces, terraces or even a gym. 
Coliving aims to make your life easier when looking for a new place to live, even abroad. 
Keep reading to find out which are some of their key differences and why coliving might be what you were looking for.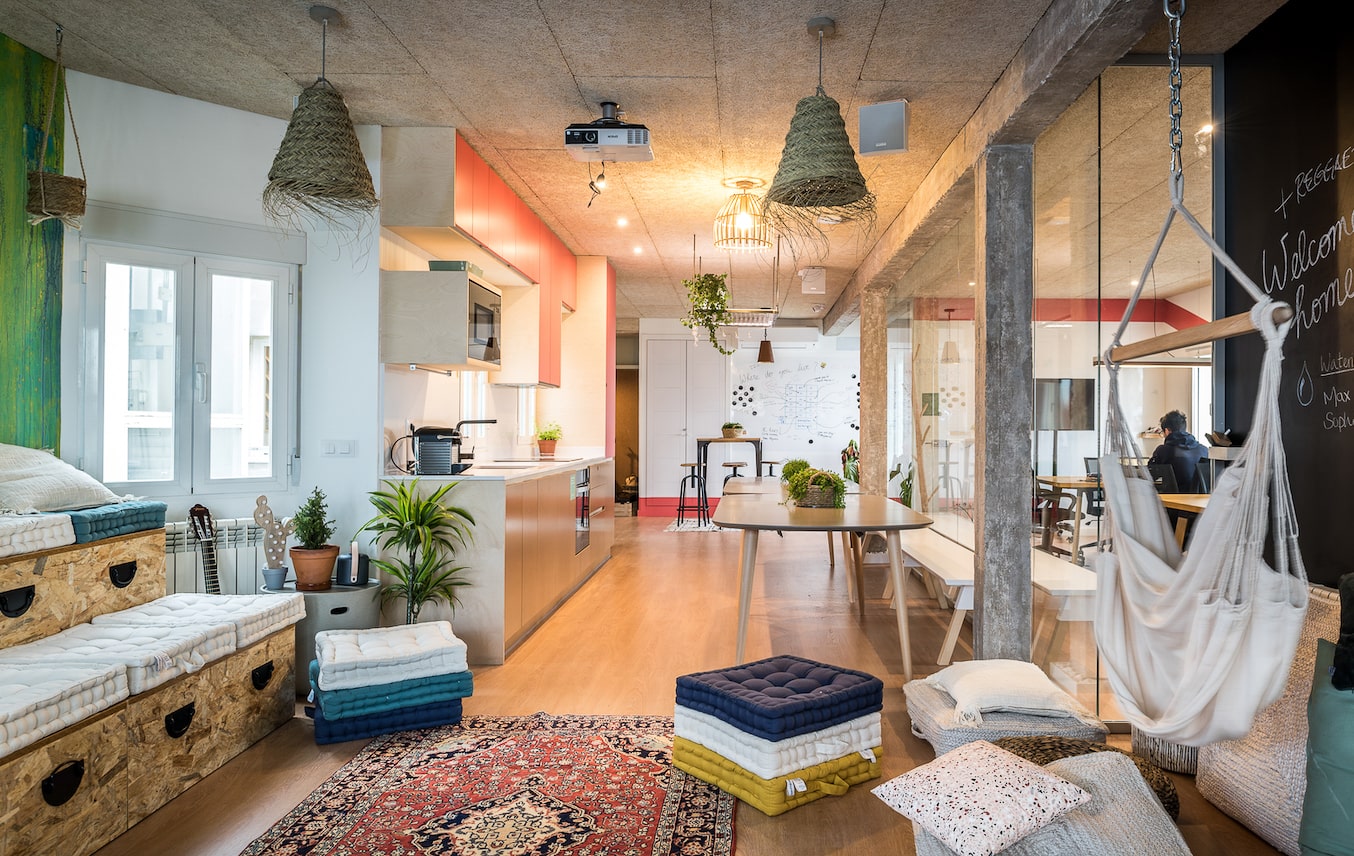 Booking your new home
Woohoo! You have finally found your new home. Time to sign the lease.
With traditional leasing, this part can be tiring and time-consuming as it is not uncommon for landlords to ask for endless documents. It is also common to charge excessively high deposits that serve as guarantees or camouflage questionable fees for agencies or other third parties.
Coliving has a different approach. It strives to make the whole booking process a lot easier, efficient and transparent.
With Urban Campus, once you have been offered a studio, you can easily book it using our friendly booking platform which clearly shows you all the details of your booking, as well as pictures of the exact studio you'll be moving into. The entire process is handled online, (from signing the contracts to paying the deposit) in just a few simple steps your new studio is booked and, voilà! All is set for your move-in.

Space designed to be shared
When you are living with others, sharing is key, especially in any flat's common areas. Many times, old and worn down flats are converted into flat-sharing rentals. These flats were just not designed to be shared, they tend to have poor space distribution and don't encourage socializing.
With Coliving, space fits you and not the other way around. The spatial distribution is carefully planned and used to foster social interaction to fit the needs of those living there. 
You can take full advantage of all the common areas included in the same building. For example, Urban Campus Mellado Madrid Coliving has 3 terraces, a games room and many other shared living rooms for you to enjoy while carrying out your daily activities. 
Wanna work out? Just walk to the gym and start your exercise routine at once.
Need to concentrate on work?
Get in the zone in our designated coworking areas with high-speed reliable wifi, comfortable and ergonomic furniture and natural light to make the most of your working hours.
Maybe you just need to take a break? Walk out the terraces and enjoy a Sunny day while filling up your lungs with some fresh air.
At Urban Campus, you get the advantage of sharing a variety of common spaces and amenities while still being able to enjoy the privacy of your own bedroom with a private bathroom.

Plug & Live
It's just you and your luggage now. With traditional flat-sharing, there might be a lot of things missing once you move in. Your room might not have that bedside table you liked so much or the wardrobe space might be too small for all your belongings. Perhaps, a lightbulb is not working properly.
Even if you are lucky to get a well-furnished room, the kitchen might be lacking equipment, plates, cutlery… 
Service costs are also constantly fluctuating and require you to continuous coordinate with your flatmates to try and fairly split the expenses. Ultimately, the bill keeps increasing. It all seems like a big hassle if you ask us.
What if you wouldn't have to worry about choosing furniture or buying all the necessary equipment and appliances to start living when moving in? Coliving offers a much more comfortable alternative. Once you arrive, every aspect of your stay has already been taken care of. You can even have fresh bed linen and towels if you ask for them! It is just up to you to bring your toothbrush & start enjoying your new home. Additionally, there is no need for you to worry about hiring services, as everything is seamlessly included and packaged in the final price.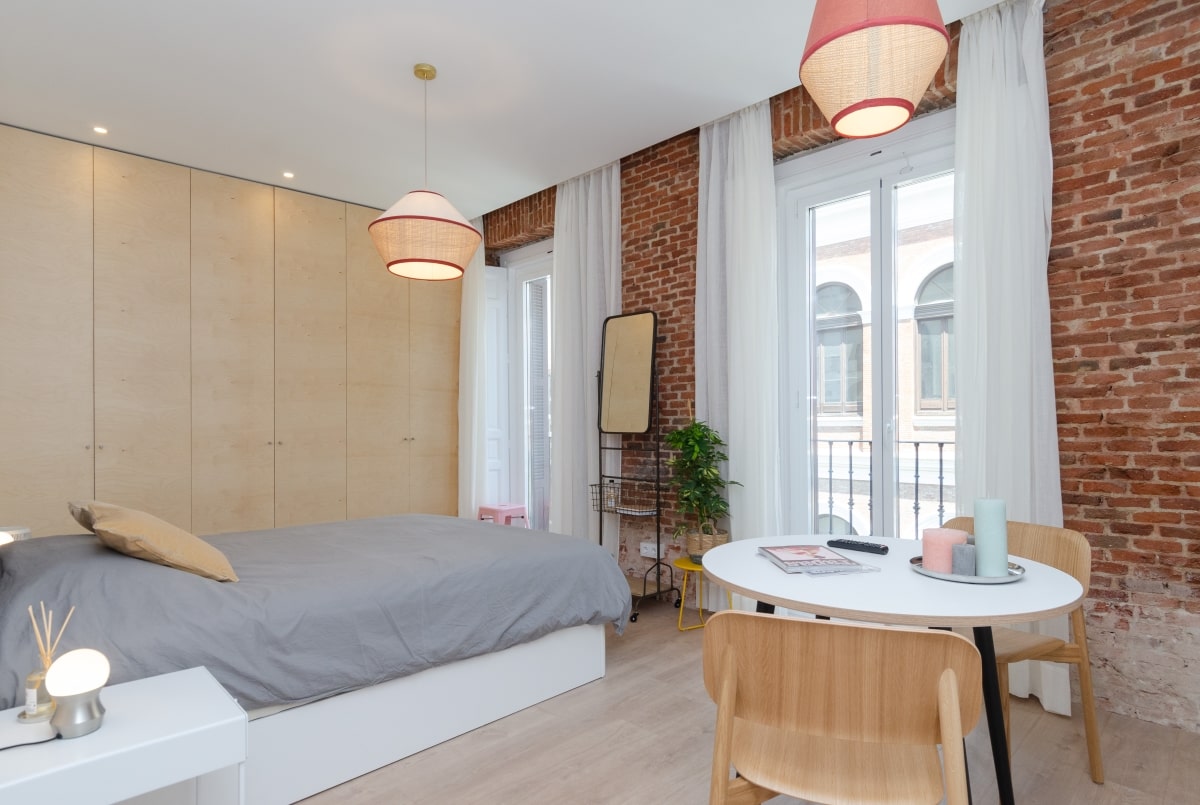 Focus on living and enjoy Coliving's benefits
Hate repetitive chores such as cleaning? We've got you covered. 
Coliving does not only offer you the perfect space for you to unfold your life, but it also offers the opportunity to enjoy a few additional services so you can spend your time on whatever it is you care about the most. 
At Urban Campus, we offer an additional weekly professional cleaning service so your private studio is always shimmering.
We also offer a wide range of perks and discounts around town, exclusively for Urban Campus members.
If you like this, then you will want to stay in the loop as we are constantly looking to offer additional perks and benefits to make our residents' stay as comfortable and fulfilling as possible.
Join the family
A big concern that many people usually have when choosing to flat-share is the people they will be sharing the space with. In many cases, landlords are only looking to fill up rooms without paying any attention to age or personality fit.
With Coliving, this is a key differentiating factor. At Urban Campus, coliving revolves around community, one that is carefully shaped with a well-thought selection process to identify and add suitable profiles with similar professional or personal interests and concerns. This way, residents can discover the city, have lunch or brunch together, share opinions, work, collaborate, and enjoy living together. 
Our community is an open and diverse one. With professionals from over 28 different nationalities, each with a different set of skills, experiences and backgrounds, Urban Campus genuinely is a unique place to enrich oneself.
Curious to know what happens inside Urban Campus Coliving? From book exchanges, movie screenings, community dinners and breakfasts to professional workshops, these are all events and activities in which our residents love to participate.

Feeling curious?
Do you want to know more about Coliving life? Follow Urban Campus on social media and contact us to discover what coliving can offer you.
Instagram: @urbancampus_
Facebook: Urban Campus
LinkedIn: Urban Campus
Do you still have doubts about Coliving being the right choice for you? Check this article about communal living on porch.com !