Get ready to fight for your life.
With the approach of August comes one of the most epic battles in the modern world. More than 20,000 people will travel to Valencia for the chance to scream, fight and participate in war-like combat. But don't worry, this isn't a typical "war" and you certainly won't need any physical fighting skills. In fact, you'll only need one thing. Tomatoes.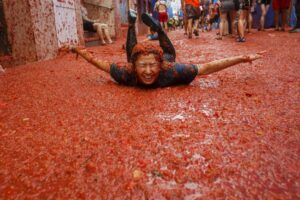 La Tomatina is the largest organized food fight in the world. It takes place in the small Valencian town of Buñol, where people flood the streets for the chance to hurl tomatoes at each other. The annual festival uses an estimated 150 tons of overripe or unwanted tomatoes saved especially for the occasion.
To commence the fighting, enormous trucks drive through the streets and dump tomatoes from their truckbeds. Participants then lunge into the tomato piles and start the free-for-all battle. The food fighting lasts for exactly one hour, and by the end, Buñol's streets are deep red rivers of smashed tomato.
You might be wondering…how on earth did a food fighting festival come to be?
The History of La Tomatina
It all started in 1945, when a group of local teenagers in Buñol wanted to participate in a traditional Giants and Big Heads parade. For reasons unknown, a small dispute broke out between the youth and other parade participants. Amidst the skirmish, a nearby vegetable stand collapsed and spilled produce onto the street. The feuding parties quickly leapt for the tomatoes and broke into a full-on food fight. They teamed up and pelted each other until the local police eventually put an end to the battle.
The following year, the same group of youngsters were eager to recreate the scene. They brought tomatoes from home and picked their own fight at the parade. This second tomato fight marked history, and the townspeople of Buñol began to embrace the unusual tradition. The government responded by banning tomato fighting for several years, yet demand for the new custom prevailed. The ban was lifted in 1959 and by 1980 the government had taken charge of organizing the festivities. Now, La Tomatina brings more than 20,000 people to Buñol every year and is one of the most famous celebrations in all of Spain.
So, you want to go? Here's a guide to La Tomatina in Buñol, Valencia
Consider bringing goggles and earplugs
Tomatoes will be flying everywhere. Any exposed part of your body will get splashed, so if you have sensitive eyes or ears, bring a form of protection.
Wear clothes you will NEVER use again 
There is no salvaging tomato-soaked clothes. Be prepared to part with whatever you wear, and bring a fresh change of clothes.
Bring water shoes
We weren't kidding when we said Buñol will become a tomato river. Your shoes will not survive the battle, so we suggest getting a cheap pair of water shoes.
Rent a locker
It is highly recommended to rent a locker at La Tomatina. Anything you bring into the food fight will be soaked and destroyed. Leave all of your valuables, including your phone, in a locker.
Bring cash
Cash is the only thing you will want to bring into the fight. Put it inside of a plastic bag and store it somewhere safe on your body. The whole town will be shut down aside from a few outdoor food and drink stands, so cash is essential.
Don't forget to hydrate
Although there will be water for sale at the festival, it can be hard to maneuver through the giant crowds. Bring your own water and stay hydrated!
La Tomatina always takes place on the last Wednesday in August, and this year's festival will be celebrated on August 30th. There is a small 10 euro fee to enter. Buñol is an easy 1 hour train or 30 minute drive from Valencia's city center. If you don't want to stress about the logistics, you can sign up with a tour group that organizes transportation and item storage. 
So, will we see you and your fellow colivers at La Tomatina this year?