The Lille Christmas Market, or "Le Village de Noël de Lille"
Welcome to the Lille Christmas Market! Get ready for a dazzling showcase of festivities and French holiday traditions. This year, from November 22 – December 31, the Lille Christmas Market is set to captivate visitors with its unique blend of traditional French Christmas culture and local Lille charm.
🎄 Lille Christmas Market: A Centerpiece of Festive Celebrations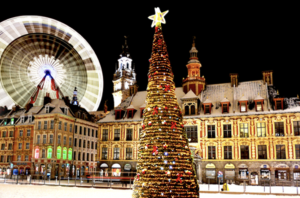 The Lille Christmas Market is located in Place Rihour, in the bustling center of Lille's historic district. Each year the market is filled with charming trinkets and homemade goods. However, this market is far more than just a shopping destination. Lille's Christmas Market is a vibrant cultural hub where approximately 900,000 visitors come each year to experience the essence of French Christmas traditions.
The Spirit of Christmas in Lille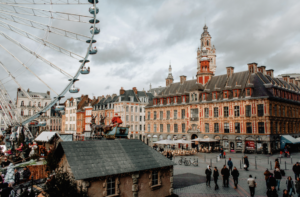 The market is renowned for its beautifully decorated shops and architectural facades, embodying the "la joie de vivre" of the festive season. Here, you'll find a plethora of activities that cater to all ages and interests.
🛍️ A Shopper's Paradise
At the Lille Christmas Market, you can explore over 90 vendors who offer a diverse range of products. From local handcrafted items to international goods, the market is a treasure trove for finding that perfect holiday gift for your loved ones.
🎡 Views from the "Grand Roue"
Don't miss the unforgettable experience of the "Grand Roue" (Big Wheel) at the Grand Place. The panoramic views from the top offer a breathtaking perspective of Lille's festive lights and decorations.
🎅 Santa Village and French Christmas Traditions
In Theatre Square or Place du Théâtre, the Santa Village awaits with enchanting Christmas decor. This carefully constructed village is a perfect reflection of France's rich Christmas traditions, where every corner brims with the spirit of festivity and the magic of French holiday cheer.
🎶A Musical Christmas
Every Friday night, live concerts bring the market to life, showcasing local talents and adding to the festive atmosphere. Lille's community spirit shines through in these musical evenings. Be sure to check out the schedule and support the local artists! 
French Christmas Traditions: A Backdrop to Lille's Festivities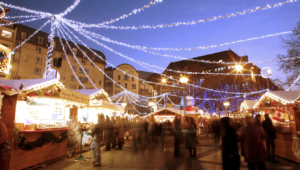 Incorporating elements of French Christmas culture, Lille's market offers a glimpse into the country's holiday customs as a whole. From the grand Christmas Eve dinners to the regional delicacies, you can find many aspects of France's Christmas culture incorporated throughout the Lille Christmas Market. 
🍽️ Culinary Delights
The market is a haven for food lovers, offering traditional French festive foods like foie gras, bûche de Noël, and regional specialties. You certainly can't resist indulging in delicious mulled wine and Belgian waffles. 
🌲 Christmas Across France
While Lille's market is unique, it is also part of a larger tapestry of Christmas markets across France. From the grand markets of Strasbourg to more intimate settings in smaller towns, French Christmas markets are a cornerstone of the holiday season throughout the country. 
🏰 Historical Significance
The Lille Christmas Market is not just a festive attraction but also a celebration of Lille's rich history and cultural heritage. The historical center, with its Flemish influence, adds an extra layer of culture to the Christmas festivities.
🍺 Flemish Influence 
The Lille Christmas Market in France exhibits notable Flemish cultural influences and traditions. Lille's proximity to Belgium and its historical connection to Flemish culture contribute to this unique blend. The market's atmosphere and offerings reflect this influence in various aspects:
Cuisine: The food served at the market often includes Flemish traditional dishes, like Carbonnade Flamande and Belgian beef stew.

Architectural Style: The market is set against a backdrop of Flemish architecture, visible in Lille's historical buildings and decorative styles.

Crafts and Goods: The stands at the market showcase Flemish-inspired crafts and goods, reflecting the cross-cultural exchange between the French and Flemish regions.

Brewing Traditions: Lille has a reputation as France's beer capital. The city has a rich history of beer culture influenced by Flemish brewing traditions, which is evident in the markets' extensive beverage options. 
Lille Christmas Market Schedule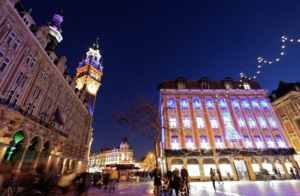 November 22nd – 31 December 

From Sunday to Thursday: 11:00 am – 8:00 pm

Friday & Saturday: 11:00 am – 9:00 pm

December 24 & 30: 11:00 am – 6:00pm

Closed on December 25
Explore more about Lille, France: