Welcome to La Maillerie, a hidden gem in the peaceful Villeneuve-d'Ascq region of Lille. This blossoming area is the location of our new Urban Campus coliving residence, opening in 2024! La Maillerie is a historic district that has been embracing a fresh vision for the future. The area is growing quickly with increasing job opportunities, green spaces and a tight-knit sense of community. It's the ideal place for those seeking tranquility away from the city rush, yet still desiring quick access to Lille's urban delights. Come with us and get to know La Maillerie in Villeneuve-d'Ascq!
Growing Opportunities in La Maillerie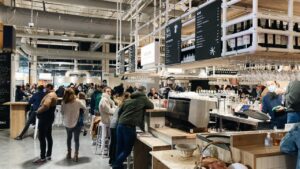 The Villeneuve d'Ascq region is a prominent economic center within Hauts-de-France, with a substantial presence of nearly 2,500 companies. It also serves as the headquarters for renowned international companies like Bonduelle and Decathlon. Within the area, La Maillerie is a developing industrial hub with close proximity to the head offices of major corporations like Auchan, Bonduelle, and Leroy Merlin. It is an exceptional place for fostering connections with dynamic professionals and expanding your network. 
Moreover, you can find universities, laboratories and specialized schools with a focus on architecture, chemistry, commerce and IT. La Maillerie is also the home to esteemed EDEHC Business School Campus, drawing hard-working business students to the area. With such a plethora of opportunities and resources, La Maillerie has become an ideal setting for professional growth and advancement.
Nature Galore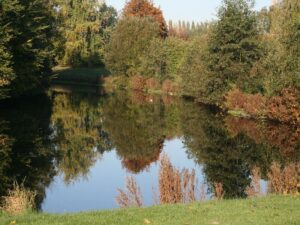 The Villeneuve-d'Ascq region is a dream for nature enthusiasts, with an abundance of outdoor spaces to explore. The region has 6 lakes, a network of cycling paths, and more than 200 hectares of green space. The renowned Parc du Héron, a vast nature reserve, stands out as a must-visit destination. The park has an impressive array of 220 bird species, plus an expansive lake with wildlife like turtles and fish. You can stroll on the long walking paths or have picnic in the ample green space. If you're feeling brave, try hiking up the Marchenelles hill – a 40 meter hill surrounded by more than 120,000 trees. Whether it's birdwatching, picnicking, or a peaceful walk, La Maillerie has quick access to an abundance of natural wonders to explore and cherish.
Explore the Cultural Attractions
La Maillerie has a rich history with lots of cultural heritage to uncover. Whether your interests lie in art, sports, or history, you'll find something captivating to discover. The LaM Museum of Modern Art is a prominent attraction, revered as a leading museum of modern art in Northern Europe since its establishment in 1983. The museum is built within a spacious park and regularly hosts open-air events. The LaM has collections that delve into modern, contemporary, and "raw" art, emphasizing unique artistic intersections that will challenge your creative eye.
If you're a sports enthusiast, you are in for a treat with the renowned Stade Pierre Mauroy stadium. The stadium has a seating capacity of 50,000 and is a frequent venue of concerts and sporting events. It is the official stadium of the Le Losc regional soccer team and will also be hosting various events during the much-awaited Olympic Games in July 2024. The stadium's versatility is remarkable, with five distinct configurations that can be changed in just 24 hours. It is also known to attract big names in the music industry, like Pink Floyd's Roger Waters in May 2023.
Eat, Drink & Take it Easy 
La Maillerie offers enticing options for dining and exciting weekend activities. Perhaps the most notable is Les Halles Biltoki, an enormous food market in the heart of town and conveniently close to our future coliving space. Les Halles Biltoki is a popular gathering spot for after-work drinks, happy hours, and leisurely brunches. The market features 25 independent food traders housed in a modern and spacious building, plus an inviting outdoor terrace. With such a diverse range of food vendors and places to relax, you can come to Les Halles in La Maillerie many times and always try something new.  
For beer drinkers, Brique House is the place for you. This beer house has a giant 800m2 taproom with an extensive selection of brews and a menu full of comfort food. They also have two beautiful terraces and a large rooftop, where you can drink and enjoy the sunshine in the summer. Brique House is know for crisp interior design paired with a laid-back atmosphere, and they hold special events in their spaces every week. We highly recommend grabbing a beer here and taking it easy with friends, family, or future colivers.