September 14th, 2023
In Interiors writes about Urban Campus' expertise in Build-to-Rent (BTR) real estate, reflecting on the general growth of coliving and BTR opportunities. 
What is Build-to-Rent?
Build-to-Rent (BTR) is an Anglo-Saxon concept that spans much broader than just coliving. Urban Campus, founded in 2016 and with current operations in France and Spain, specializes in BTR. Build-to-Rent involves an investor purchasing an entire building for rental purposes and entrusting its management to a professional operator, like Urban Campus. BTR buildings typically include some form of private living spaces, ranging from shared rooms to one-bedroom or two-bedroom units. They also offer various shared spacious and optional services tailored to different target demographics.
Build-to-Rent differs from coliving in several ways. In coliving, rent typically includes utilities, internet, and cleaning services. Build-to-rent apartments may not always be furnished, and the services tend to be more varied. BTR complexes still feature shared amenities like coworking spaces, communal kitchens, fitness rooms, and game rooms. In both cases, common spaces are accessible to residents without the need for reservations or additional payments, creating a unique blend of private and shared living experiences.
Advantages of Build-to-Rent Real Estate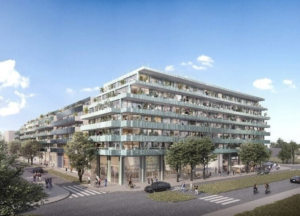 Maxime Armand, co-founder and director of operations at Urban Campus, emphasizes the benefits of BTR. Some advantages include well-designed apartments with essential amenities, simplified daily living, convenient services, and a strong sense of community. He also discusses Urban Campus's ambition to create residential products that cater to a wider audience, building upon their current expertise in France and Spain.
Urban Campus is actively working on several Build-to-Rent projects in collaboration with real estate partners and investors. These projects include apartment complexes with various unit sizes, shared spaces, and additional amenities. Urban Campus aims to expand its portfolio to manage approximately thirty residences by 2026.
Read the original article from In Interiors here.