In recent years, the concepts of coliving, shared housing, and intergenerational residences have gained significant traction within the housing market. Urban Campus, a pioneer in creating innovative living spaces, has been at the forefront of this transformation. This article delves into the burgeoning trends of innovative housing solutions. These include supported living, shared living, coliving, co-residence, communal living, and intergenerational living. Plus, we will highlight the substantial appeal these varying trends hold for people of all ages. 
Coliving & intergenerational living attract young workers and seniors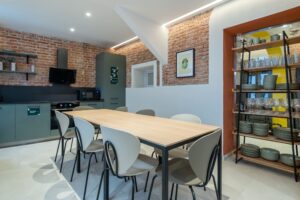 The 21st century has ushered in a remarkable shift in housing preferences, moving beyond the traditional single-family home or apartment living. Supported living, shared living, coliving, co-residence, communal living, and intergenerational living have all emerged as compelling alternatives. Urban Campus, recognizing the evolving needs of urban dwellers in a hyper-digital world, has been a leader in this transformation.
The emergence of these housing solutions can be attributed to an increasing societal need for social connection and community. In an era dominated by remote work and technology, individuals often find themselves facing isolation. Communal housing options aim to bridge that gap by offering spaces that foster genuine human interaction and a shared sense of belonging. They provide opportunities for residents to form authentic connections and a stronger sense of belonging.
Supported Living: A helping hand for all ages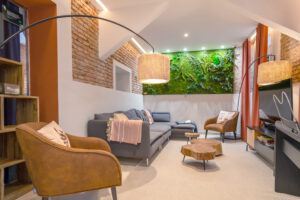 Supported living is a burgeoning concept that encompasses a range of housing options designed to provide residents with assistance and care tailored to their specific needs. This includes not only the elderly but also individuals with disabilities or those requiring medical support. Supported living aims to ensure that residents can enjoy a comfortable, secure, and inclusive living experience.
Shared Living: Fostering community and affordability
Shared living has gained immense popularity among millennials and Gen Z. It involves individuals, often strangers, sharing living spaces while benefiting from reduced costs and an enhanced sense of community. Shared living can foster connections, collaboration, and personal growth among its residents.
Coliving: Creating rich communities for digital nomads and young professionals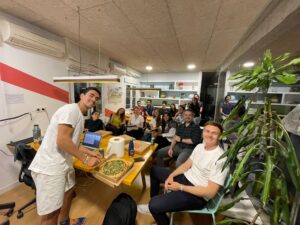 Coliving takes shared living a step further, providing residents a strong sense of community and intentionally-designed common spaces. The concept of coliving has experienced a remarkable surge in popularity in recent years, especially as young professionals seek innovative and community-oriented housing solutions. 
Urban Campus has been a leader in coliving throughout both France and Spain. Our dynamic coliving spaces serve as hubs of collaboration, creativity, and social interaction, providing residents with an unparalleled living experience. Through thoughtfully designed spaces and a vibrant calendar of events, Urban Campus fosters a sense of belonging and camaraderie among its residents. These factors all come together to make coliving a truly enriching and fulfilling lifestyle choice.
Intergenerational Living: Bridging the Generation Gap
Intergenerational living is a concept where different generations have a co-residence under one roof, sharing life experiences and forming unique bonds. It allows seniors to find companionship and support, while young professionals benefit from guidance and wisdom. The interplay of generations creates an enriching living environment that benefits all residents.
Overall, the growing popularity of coliving and other innovative housing solutions reflects a broader shift in how individuals approach shared living arrangements. Urban Campus continues to contribute to this evolving landscape of shared housing through the expansion of their dynamic and community-oriented coliving spaces. As the housing market continues to evolve, it's clear that these innovative trends are shaping the future of communal living.  Individuals are seeking enhanced connection and a deeper sense of belonging in their environment, which will continue to fuel this growth.