Les Halles de La Maillerie
If you are curious to get to know La Maillerie, you must discover the culinary utopia known as Les Halles de la Maillerie. Nestled in La Maillerie near the border of Belgium, Les Halles de La Maillerie is one of the many innovative Biltoki food markets scattered around France. Here, friends, families and local artisans connect over delicious food, refreshing drinks, and regional specialities. Les Halles de la Maillerie has become a well-known destination, firmly establishing itself as a cornerstone of the culture in Villeneuve d'Ascq, Croix, and the surrounding areas.
The History of Les Halles – What is Biltoki?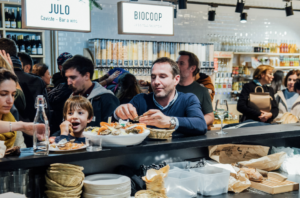 Les Halles de La Maillerie is part of the Biltoki food market network. This is a global network of marketplaces focused on reimagining the traditional market experience. The concept of Biltoki was brought to life by four visionary co-founders, all from the French Basque country: Jerome Lesparre and the Alman brothers –Romain, Bixente, and Xabi. In fact, "Biltoki" is a Basque word which means "a place for people to gather." 
Biltoki's remarkable journey began in 2009. This group of co-founders made a collective decision to leave their established careers and return to the French Basque Country. Initially interested in real estate projects, their path took an unexpected turn in Anglet, France when they stumbled upon a historic building with vacant space. Determined to create something meaningful, they sought input from the local community. They quickly uncovered a resounding desire for a fresh food market. The founders began recruiting local vendors and artisans, wanting to highlight local and regional specialities. Soon, Biltoki's inaugural venture, the "Halles des 5 Cantons" was born. 
Biltoki markets today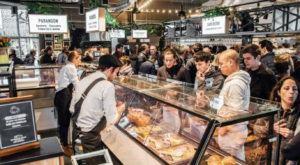 Nearly 14 years later, Biltoki markets have a presence in seven cities. They even have plans to expand into several different countries. At the heart of Biltoki's mission is the commitment to uniting the finest local artisans in each town. They shine a spotlight on the both unique and popular products crafted by these local artisans, celebrating the unique flavors and culture of each region. 
Opening Les Halles de La Maillerie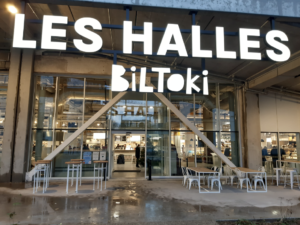 In December 2021, Biltoki ventured into Northern France with the opening of Les Halles de La Maillerie. This marked a significant milestone for the co-founders, as it was their first project in this region. Spanning just over 1000 square meters, Les Halles de La Maillerie can host up to 25 independent vendors. Here, local artisans from Villeneuve d'Ascq, Croix, and other areas in Lille are able to find new sales opportunities and increased visibility.
Les Halles has a variety of food vendors and goods to explore. These include merchants of wine, cheese, sweets and fresh produce. Plus, you'll find butcher's shops, coffee stations, bakeries, fish & chips, and italian specialities. With so many culinary offerings, you can visit the weekly markets at Les Halles many times and always try something new.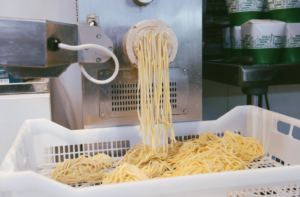 Les Halles Biltoki resides in an old historic building, formerly home to the renowned 3 Suisses e-commerce company. Its transition into a Biltoki food market was more than just a renovation. The transformation was meaningful, breathing new life into a space steeped in local history. The founders were also drawn to the evolving district project and renovations taking place in La Maillerie. Our team at Urban Campus is thrilled to play a role in this district project, with our new coliving space opening in La Maillerie in 2024. 
Les Halles de La Maillerie stands out for its warm and familial ambiance. The market is defined by a sense of close-knit community and familiarity. Loyal customers are always returning to their favorite tables, snacks, and cherished merchants. There are also a plethora of events and activities like live music concerts, food festivals, tastings and culinary events, and even karaoke. These events enliven the local community, further cementing Les Halles as an essential part of La Maillerie's cultural fabric. 
Café Biltoki
At every Biltoki market, you'll find the heart and soul of the venue – the Café Biltoki. These bars and cafés, owned and operated by the founders themselves, serve as a common thread connecting the diverse array of Biltoki markets. Whether you're craving a glass of wine, shot of espresso, or some engaging conversation, the café is the perfect place to do so. Beyond serving visitors, this is also a place where vendors can gather after a day of hard work.
The Biltoki Cafés epitomize the four fundamental values that define Biltoki. These are authenticity, commitment, audacity and hospitality. Authenticity is paramount, as Biltoki is a family-owned business and strives to remain true to its roots. Commitment drives their efforts to positively impact communities through urban revitalization and local artisan support. Audacity fuels their innovative and boundary-pushing approach, challenging norms and trends. Lastly, hospitality is at the core, creating warm and inviting marketplaces where everyone feels welcome. 
Where to find Les Halles de La Maillerie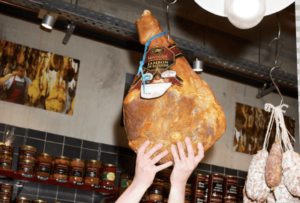 Directions
64 allée des Mannequins, 59650 Villeneuve d'Ascq
Bus 32: station le sart nord
Tram: station le sart
Subway: station croix centre
Hours
Monday: closed
Tuesday – Wednesday: 8h00 – 14h30, 16h30 -19h30
Thursday – Friday: 8h00 – 14h30, 16h30 – 22h30
Saturday: 8h00 – 22h30
Sunday: 8h00 – 15h