Have you heard of coworking? 
In a world where work dynamics are frequently shifting, coworking has become a game-changer. In 2020, many of us became remote workers and enjoyed the flexibility of working from home. But as we slowly swapped suits for pajamas and office spaces for bedrooms, the value of office socialization became evident. On the other hand, the traditional routine of dressing up and commuting to an office Monday – Friday remains largely unappealing. The benefits of coworking spaces help solve this dilemma. Coworking blends these two worlds for a healthy balance of work autonomy and community. 
Why are coworking spaces important? 
In its most basic definition, a coworking space is a neutral space where individuals from various professional backgrounds come together to work. Coworking spaces are havens for freelancers, digital nomads and remote workers. They also welcome employees whose companies opt for a flexible workspace. In the shared office, there are people from different companies and industries, fostering a vibrant cross-pollination of ideas and collaborations. Plus, coworking spaces often boast many shared amenities you'd find in a traditional office.
History of the coworking revolution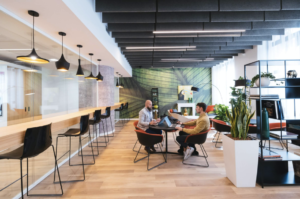 The concept of coworking emerged in the early 2000s, offering freelancers a much-needed alternative to working from home or local cafes. Prior to this, the concept of coworking can be traced to "Hackerspaces" created in Berlin in the 1990s. These spaces were designed to welcome and foster work collaboration among different computer enthusiasts. 
The term "coworking" was officially coined by Bernard DeKoven in 1999, initially emphasizing a collaborative work approach rather than a physical space. In the following years, coworking spaces as we know them today started appearing in Vienna, Austria (2002), and San Francisco, USA (2005). Starting in 2006, the number of coworking spaces worldwide doubled annually, and this trend continued for seven years straight. 
What are the benefits of coworking spaces?
Many notable businesses like Instagram, Uber, and Spotify all had their beginnings in coworking environments. Now, in 2023, there are over 5 million coworkers and 19,000 coworking spaces globally. Let's take a look at some of the benefits of coworking spaces that have helped to fuel this rapid growth.
Coworking reduces loneliness  
Anyone who has worked completely remotely knows that loneliness can be a real challenge. One of the remarkable benefits of coworking spaces is the opportunity to build meaningful community. These spaces encourage professionals from various backgrounds to exchange ideas and build relationships beyond their own companies and fields. Working in a coworking space eliminates the solitude of a home office, and gives you potential for more professional connections and friendships. On average, 89% of members report being happier after joining a coworking space.  
Productivity and creativity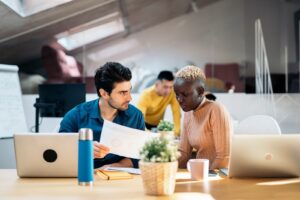 Coworking spaces have proven to be instrumental in boosting productivity, with a staggering 74% of coworkers reporting increased efficiency. This surge in productivity is attributed to the heightened social and collaborative atmosphere. Additionally, coworking spaces offer a greater degree of job control, allowing coworkers to tailor their work environment to suit their preferences. Whether it's opting for a quiet, focused corner or a more social, interactive setting, coworking spaces empower professionals to customize their work experience. This ultimately contributes to enhanced productivity.
Business tools & support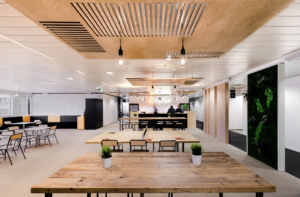 Coworking spaces offer many crucial resources that parallel those found in conventional office settings. These resources typically include meeting rooms and collaborative workspaces, plus fundamental tools like printers and copiers. Depending on the coworking space, you can also expect to find coffee makers, lockers, bike racks, community managers, and sometimes special features like meditation rooms and creative studios. These tools are a cost-effective solution for freelancers and digital nomads who often lack access to essential work resources. 
Hotspots for collaboration & networking opportunities  
Coworking spaces are dynamic hubs for collaboration and networking opportunities. These spaces foster an environment where individuals from diverse backgrounds can all interact, fueling opportunities for connection, ideation, and meaningful relationships. With professionals working on a wide range of projects and ventures, coworking spaces naturally facilitate networking. It is easier to to create fresh ideas, foster collaborations, and even ignite new career possibilities.
Coworking with Urban Campus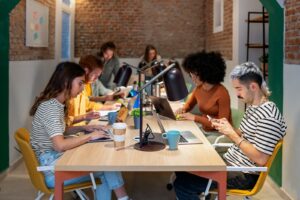 If you're intrigued by the concept of coworking, explore our Urban Campus spaces.
At Urban Campus, we offer premium coliving spaces, each featuring an integrated coworking area. This coworking facility is seamlessly included in your rental package, alongside an array of communal amenities, including lounges, terraces, shared kitchens, and fitness centers. You have the flexibility to choose from a variety of private accommodations, whether it's rooms, studios, or apartments, all while enjoying social environments of our shared spaces. Moreover, we host weekly events to facilitate socializing and community-building, helping you get connected with a supportive community.