Did you know that Madrid hasn't always been the capital of Spain? 
That's right – Toledo served as the capital of Spain for almost 200 years. Toledo is one of the most heralded cities in all of Spain, known for its renowned culture and deep history. The city is filled with stunning views, historic architecture and many authentic elements of Spanish culture. Come with us and discover more about one the best day trip from Madrid – Toledo, Spain.
Toledo's unique history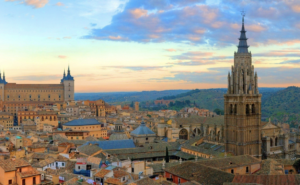 Toledo served as the capital of Spain from 542 to 725 CE, after the decline of the Roman Empire. The city sits atop a steep rock and is defined by its proximity to the Tagus river, which surrounds it on three sides.
The Tagus river is the longest waterway in the Iberian Peninsula. It stretches from Spain's eastern Albarracín region all the way to the Atlantic Ocean near Lisbon, Portugal. Toledo remains the capital of the Spanish autonomous community Castilla-La Mancha and is a popular destination for tourists and spaniards alike. 
Often called the "City of the Three Cultures," Toledo, Spain has a unique mixture of Christian, Islamic, and Hebrew culture. These 3 cultures coexisted peacefully for centuries, which led to a natural interchange of traditions, architecture and art. In 1986, Toledo was designated a UNESCO World Heritage Site due to its rich cultural heritage, highlighting its significance in preserving the shared history of these diverse communities. You will still find cathedrals, mosques and synagogues throughout the city, each embellished with remarkable detail. 
Wondering what to do in Toledo? Check our recommendations below.  Grab your fellow colivers and take a day trip from Madrid to Toledo, Spain!
Puente de Alcántara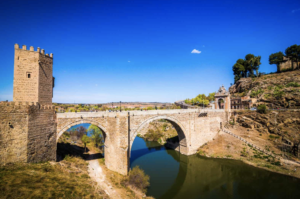 The Puente de Alcantara is one of the most beautiful historic bridges in Toledo. Dating back to Roman times, it once served as the sole gateway for pilgrims entering the city. The bridge gracefully spans the Tagus River, offering a timeless connection between past and present. A visit during the night is especially enchanting, as the lights of the city and the nearby Alcazar create magical views of Toledo. 
The Alcázar of Toledo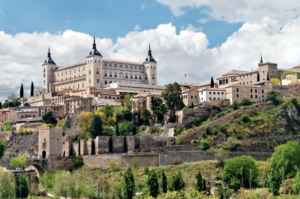 The Alcázar of Toledo, perched at the city's highest point, is an ancient fortress with a rich history. It has served different purposes over the centuries as a royal residence, fortress, and official government building. Nowadays, it houses a military museum dedicated to the Spanish army. Don't miss the impressive views from the top balcony, offering a one-of-a-kind perspective of the city. 
Cathedral Primada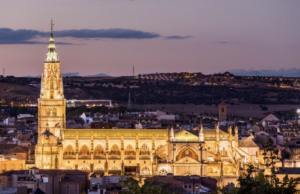 The Cathedral Primada is the city's primary cathedral and a must-see attraction in Toledo. It has a striking Medieval Gothic style, and showcases an art gallery with renowned artists such as El Greco, Goya, and Velázquez. Want a panoramic perspective? You can climb to the cathedral's 44-meter-tall tower to see panoramic views of the city. 
Monastery of San Juan de los Reyes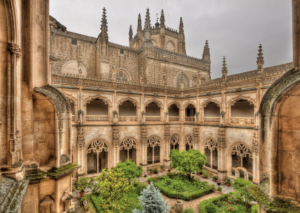 Nestled in the heart of Toledo's historic Jewish quarter is the Monastery of San Juan de los Reyes. Completed in 1495, the monastery is a splendid example of Elizabethan Gothic style, with coffered, high ceilings and elegant buttresses. Plus, there are lush gardens that offer a place for stillness and reflection. As one of the most important structures commissioned by the Catholic Monarchs, this monastery stands as a testament to their legacy. 
Puy du Fou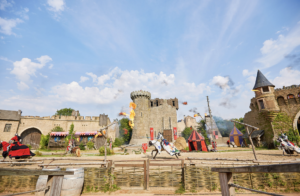 A visit to Puy du Fou promises an unforgettable experience immersed in history and captivating storytelling. Puy du Fou is a spectacular park with immersive theatrical shows that have earned national acclaim. These shows recreate historical tales, bringing the past to life with actors, costumes, and elaborate sets. The park also offers options for dining, accommodations, and mesmerizing fireworks displays at night.
Mirador del Valle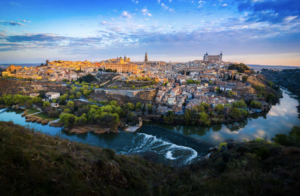 The Mirador de Valle is the ultimate vantage point. It has a reputation for the best views of Toledo, as you can see the entire cityscape and the winding river below. This breathtaking outlook inspired the iconic landscape painted by El Greco in his masterpiece, "Vista de Toledo". You can walk to the Mirador del Valle from the Puente Nuevo de Alcántara, or take the convenient Trainvision from Plaza de Zocodover. 
Plaza de Zocodover
The Plaza de Zocodover, Toledo's central square, is a bustling hub that links together many of the city's main attractions. Serving as the historic heart of Toledo, it has long been a vital point of connection for the city's residents and visitors. In the past, Zocodover was the go-to venue for trading horses and other animals. Today, it is adorned with diverse historical monuments, making it an ideal starting point for exploring the city's rich heritage and vibrant culture.
Take a sword tour 
Toledo steel is known worldwide for its exceptional quality and craftsmanship. Toledo has long been a prominent center for traditional sword-making and metalworking. The distinctive Toledo steel technique involves encasing a steel blade within a wrought iron strip, a method designed to prevent the steel from bending or cracking. This meticulous craftsmanship gave rise to the belief that Toledo steel weapons possessed a "soul of iron," known for their remarkable strength and durability. 
While the tradition of sword-making has become less prominent in recent years, a dedicated group of sword makers in Toledo continue to preserve and carry forward these ancient techniques. You can visit their shops and even take a tour to learn more about their craftsmanship.
How to get from Madrid to Toledo 
Traveling from Madrid to Toledo is an easy trip. You can head to the train station and take a high speed train, which takes approximately 30 minutes and costs 14 euros one-way. Alternatively you can take a bus, which is a one hour journey for approximately 6 euros. If you prefer flexibility, driving by car is another easy option, which takes around one hour. 
Whichever mode of transportation you choose, you certainly won't regret taking one the best day trip from Madrid – Toledo, Spain.