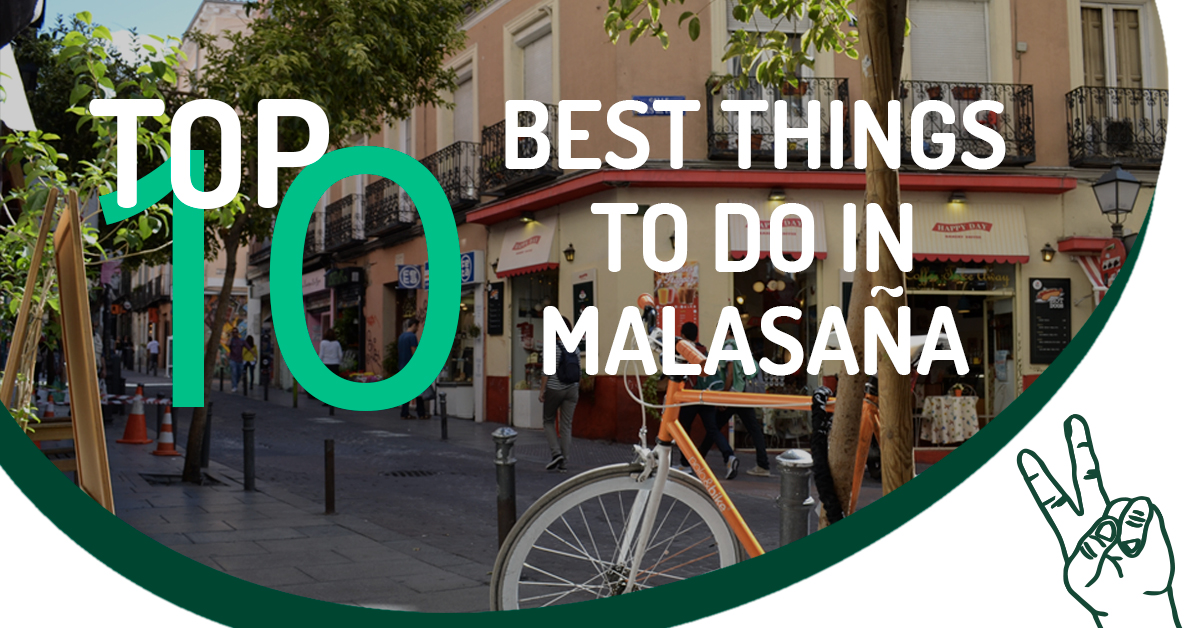 10 Jun

Top 10 Best Things To Do In Malasaña

Madrid's Malasaña neighbourhood is definitely one of a kind. Its privileged and centric location makes it a perfect spot for people from all over the Spanish capital to come together to enjoy the neighbourhood's diverse cultural and food scenes.

Malasaña's identity is strongly influenced by the roaring countercultural movement, 'La Movida Madrileña', which took place in the 80s during the post-Franco dictatorship transition. Today, it's considered to be one of the most alternative and trendy areas in the city, filled with bohemian bars, eclectic restaurants, street markets, galleries, and so much more. Without a doubt, a perfect area to explore over the weekend with friends, as a couple, or alone.

Check out Urban Campus' TOP 10 best things to do in Malasaña…

If you're looking for some good entertainment, then Microteatro is a good place to start.

This spot is hosted in what used to be an old brothel, yet now is an amazing bohemian space that presents short-duration plays for small audiences of up to 7-15 people. You can grab a drink and hop around from one play to the next. Whether you are looking to have a good laugh during a comedy short play or at the edge of your seat while witnessing a thrilling drama, this is definitely a great place to enjoy yourself.

Microtreatro is open from Tuesday to Sunday and has both afternoon and night sessions.

Where is it? Calle de Loreto y Chicote, 9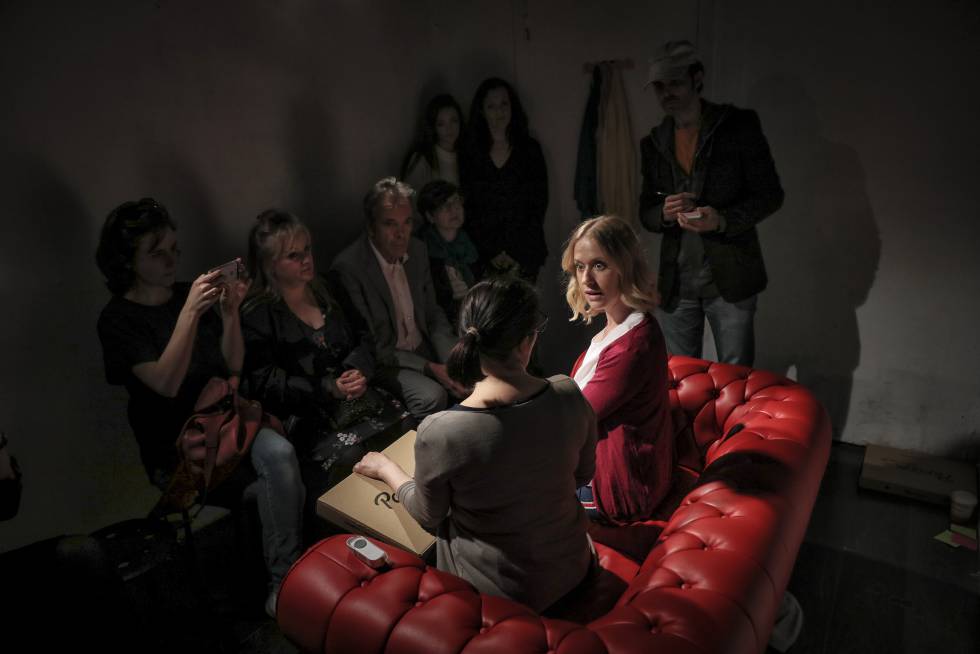 Are you familiar with the custom of turning abandoned, industrial or old buildings into modern spaces? Well, Madrid has its own cultural space inside a beautiful 18th Century Baroque military quarter in Malasaña, just 5 minutes away from our Urban Campus Malasaña Madrid Coliving.
Today, this building is an important metropolitan centre that hosts a wide variety of cultural activities.
'Conde-Duque' is divided into 3 big patios and has always got something going on. From art or photography exhibitions, music concerts, theatre and dance performances to movies & documentaries in its modern auditorium. During summer they even screen classic films outdoors on one of their patios. 
Want to learn more? Head over to their website to see their current cultural program.
Where is it? Calle del Conde Duque, 11
There are very few places in Malasaña that represent its essence as well as 'La Vía Láctea'. This iconic bar, located next to the Plaza Dos de Mayo, was a very important meeting point during the 80s 'Movida Madrileña' and was regularly attended by influential figures, artists and people at the time. 
Its walls, covered with photographs, posters, stickers & marker scribbles tell thousands of stories, transporting you back to that eclectic era. 
Nowadays, Vía Láctea is a great place to go out with friends, enjoy a few drinks with some great classic 70s-80s songs and meet new people.  If that doesn't sound like enough, there's also a pool table for you to show off your billard. 
A night out at Vía Láctea is a guaranteed night to remember.
Where is it? Calle de Velarde, 18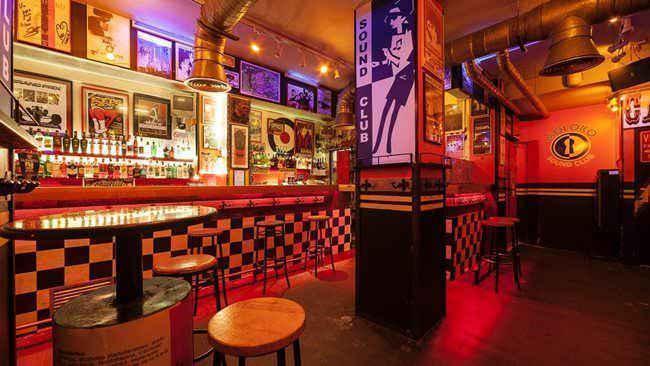 Looking for a more laidback plan? Then this is your place. A charming shop that mixes two of life's greatest pleasures – books & wine! 
This bookstore specialises in independent authors and editorials and sells a great selection of both books and wines. It's also recognized for having great customer service with friendly staff who are always ready to lend a hand and recommend a great read.
It's definitely a great place to get lost in the pages of a book while enjoying a glass of wine (or two?) or a nice cup of coffee. Sounds like a great Sunday afternoon plan if you ask us.
'Tipos Infames' also hosts events such as authors' signings, books' or magazines' presentations and interesting talks about various trending topics.
Where is it? Calle de San Joaquín, 3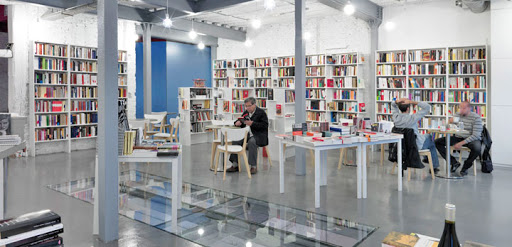 5. Explore Malasaña's gastronomic scene
Malasaña is not solely known for its alternative bars or bohemian vibe, it's also an amazing area to grab a bite. Restaurants around the neighbourhood offer different alternatives for all preferences and palates. Here are three great options to satisfy your appetite.
One of our top recommendations is the Chinese restaurant 'Xiongzai' or popularly known as the 'Winnie Pooh joint' because of the jumping Winnie Pooh next to the restaurant's name.
This legendary Chinese 'cheap eats' restaurant has delicious ramen soup options, a variety of dim sum, and great cold Chinese beer. 
Where is it? Xiongzai Restaurant (Calle de San Leonardo, 3)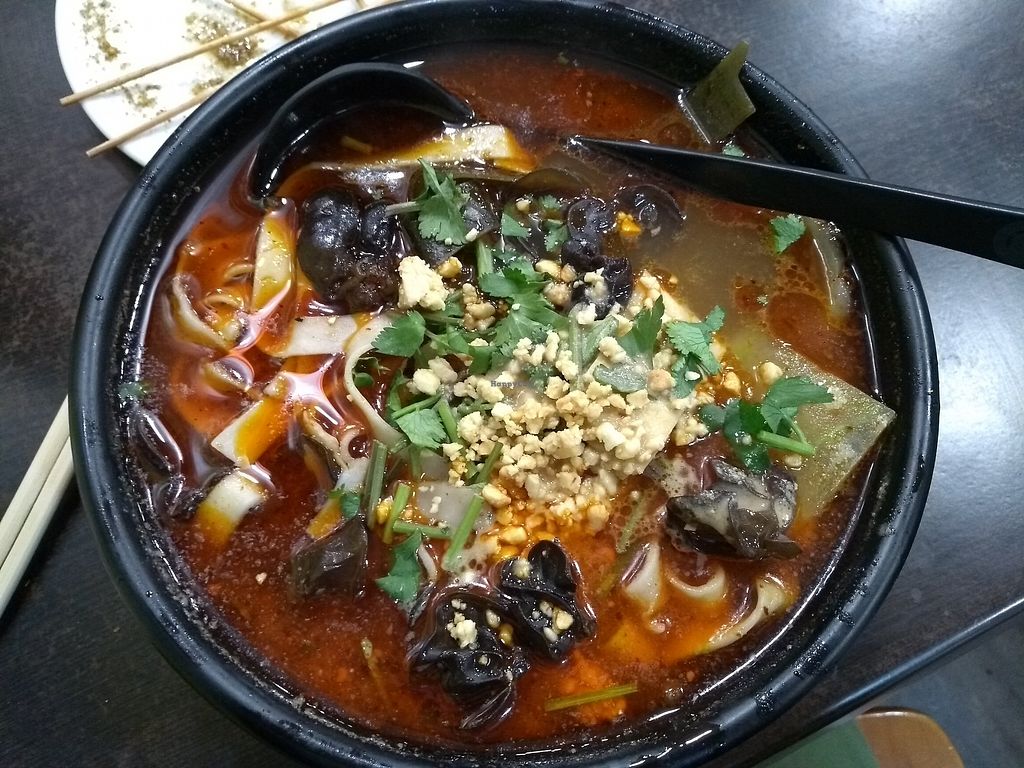 If you're looking for a vegetarian restaurant that also offers delicious gluten-free dishes, then 'Vega' is where it's at.
This modern restaurant offers a variety of fusion dishes, all made with ecological products. You can order anything from Indian curry to Moroccan couscous, to jackfruit tacos or even Thai ceviche. 
Where is it? Vega (Calle de la Luna, 9)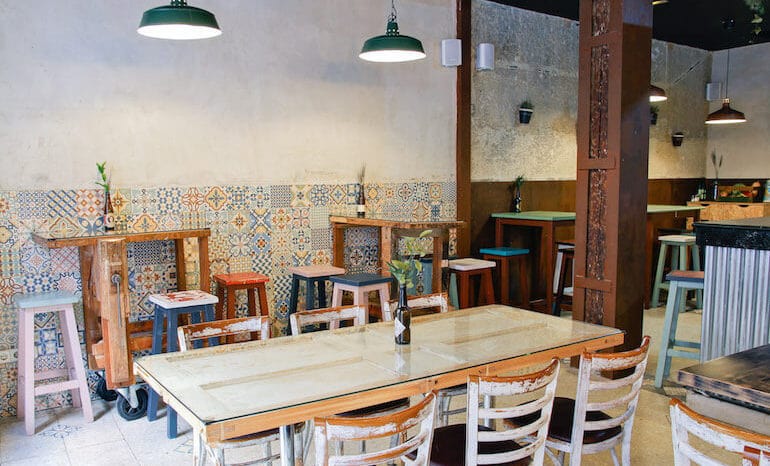 One of Malasaña's most famous restaurants, 'Ochentagrados', is definitely worth a visit. 
Modernly decorated, this restaurant offers Spanish cuisine with a major twist. They've taken all of the classics and kicked it up a notch. Served in small plate 'tapas', the menu is full of surprises and mixes in some great fusion flavours. 
Our recommendation? A fun take on the typical Spanish rib dish, their 'costillas melosas' are served in a toasted sweet rib sandwich that never disappoints.  
Got a sweet tooth? Try the 'Blanco Limón'. Yoghurt ice cream covered with lemon & yoghurt foam cream on a crunchy white chocolate base. Already craving a bite? Don't wait!  Book a table in advance as it usually gets pretty crowded during peak hours.
Where is it? Ochentagrados Malasaña (Calle de Manuela Malasaña, 10)
 Ochentagrados also has 3 other restaurants in Castellana, Pozuelo & Las Tablas. 
*Psst! Quick side note: If you're curious to know more about bars and restaurants around the centre of Madrid, check out our Community's Top 12 Bars & Restaurants recommendations!
6. Vintage stores hopping & shopping
Something that is also very characteristic of Malasaña is undoubtedly its vintage shops. Seriously, the area is full of them, and each one offers more unique clothing than the next. 
If you're all about that trendy vintage look (that has managed to make its way back to the 21st century) check out the following shops:
This famous store is an essential and it's not your average vintage clothes shop.
They sell clothes not by the piece, but by weight. It's a great option if you're looking for a bargain and want to stock up on some 2nd hand retro digs.
Where is it? Flamingos Vintage Kilo (Calle de San Joaquín, 16)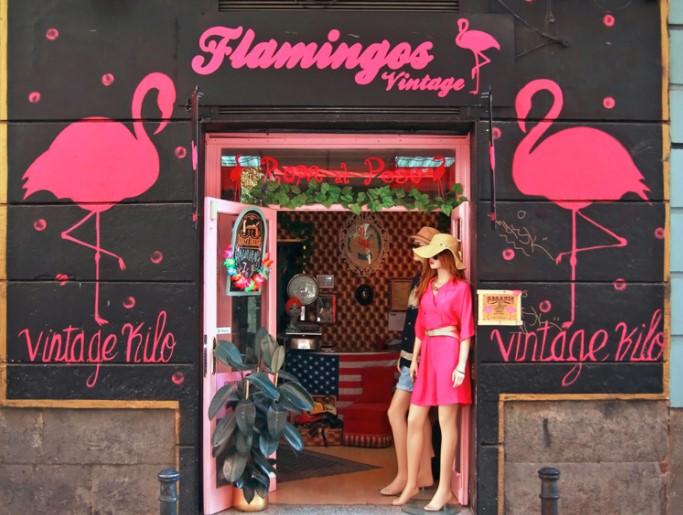 Another, more classic vintage shop, 'Magpie' is located on the same street as 'La Via Láctea' and you're sure to find some great finds there.
'Retro Adidas sweatshirts, classic converse shoes, vintage glamorous sunglasses… you name it. If you're looking for it, you'll probably find it here. 
Where is it? Magpie Vintage Clothes (Calle de Velarde, 3)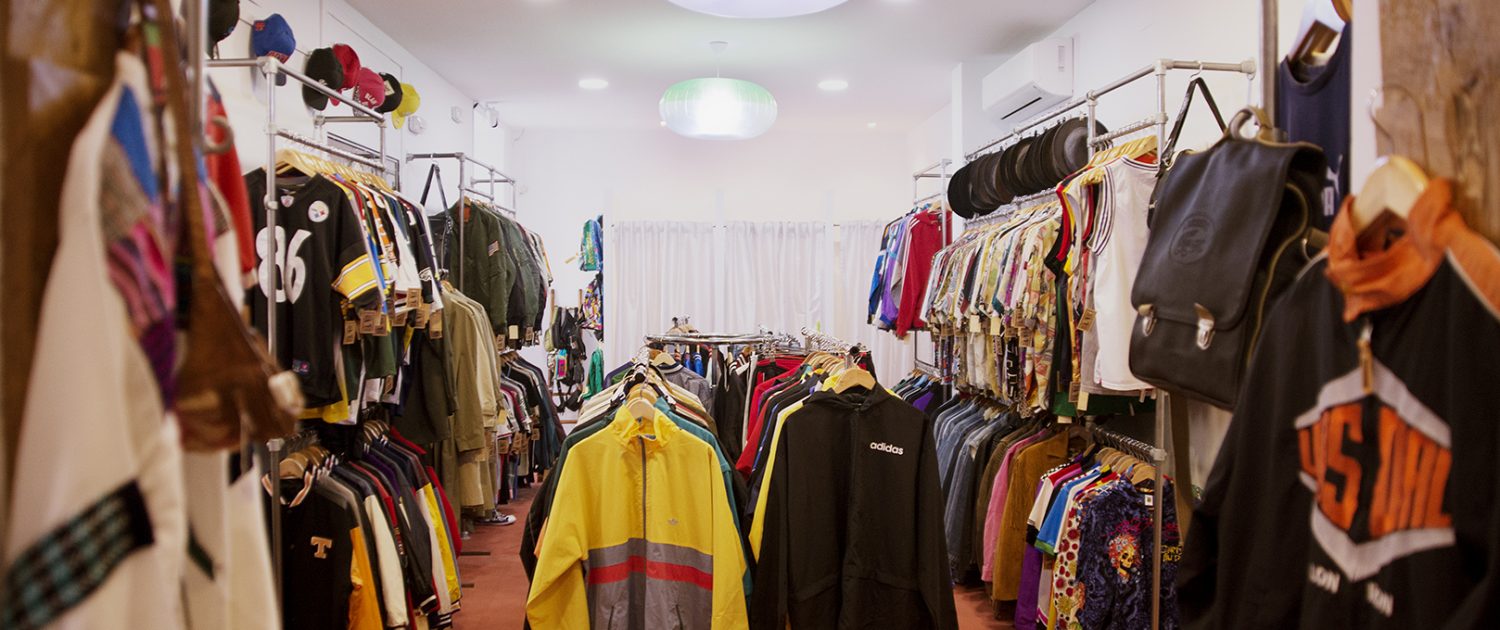 Malasaña has gained its popularity largely due to its vibrant nightlife and this place doesn't fall short. 'Maravillas Club' is another iconic spot to enjoy performances, monologues, indie concerts or comedy shows. It's also a great place to go out dancing on a night out as they usually play great top international classics. There's even a scaffold for you to stand on and show off your moves on the dance floor. 
They sell amazing craft beer from 'Garage Beer Co.' which comes in fresh from their factory to their beer tap and into your glass.
Where is it? Calle San Vicente Ferrer, 33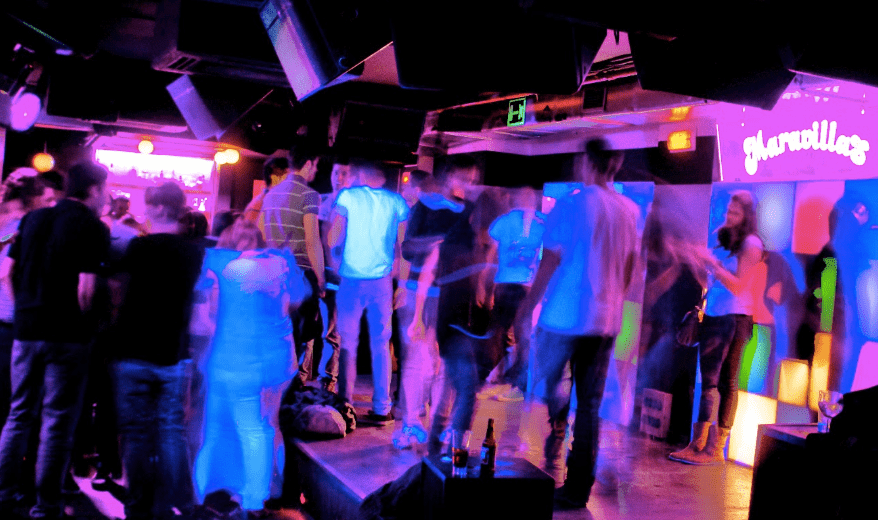 8. Crate Digging for vinyl records
Another cool trend that has made its ways back is vinyl records. For those who yearn for the good old times collecting vinyl has even become a major hobby.
Malasaña is, fortunately, a great place to go crate digging and find some true top tracks from all genres. If you love music and are always on the hunt for that precious vinyl, check out the following recommendations.
This great record shop is very close to our Urban Campus Malasaña Madrid Coliving and has a fantastic vinyl record collection from all genres and eras. Miles Davis' Jazz, Pink Floyd's rock, or Tame Impala's indie music, you name it, Marilians will most likely have what you're looking for. They also stay updated about new releases too, so if what you're looking for is a new jammer, they'll probably have it.
Marilians also organizes small intimate gigs from time to time with local musicians.
Where is it? Marilians Records (Calle de Noviciado, 9)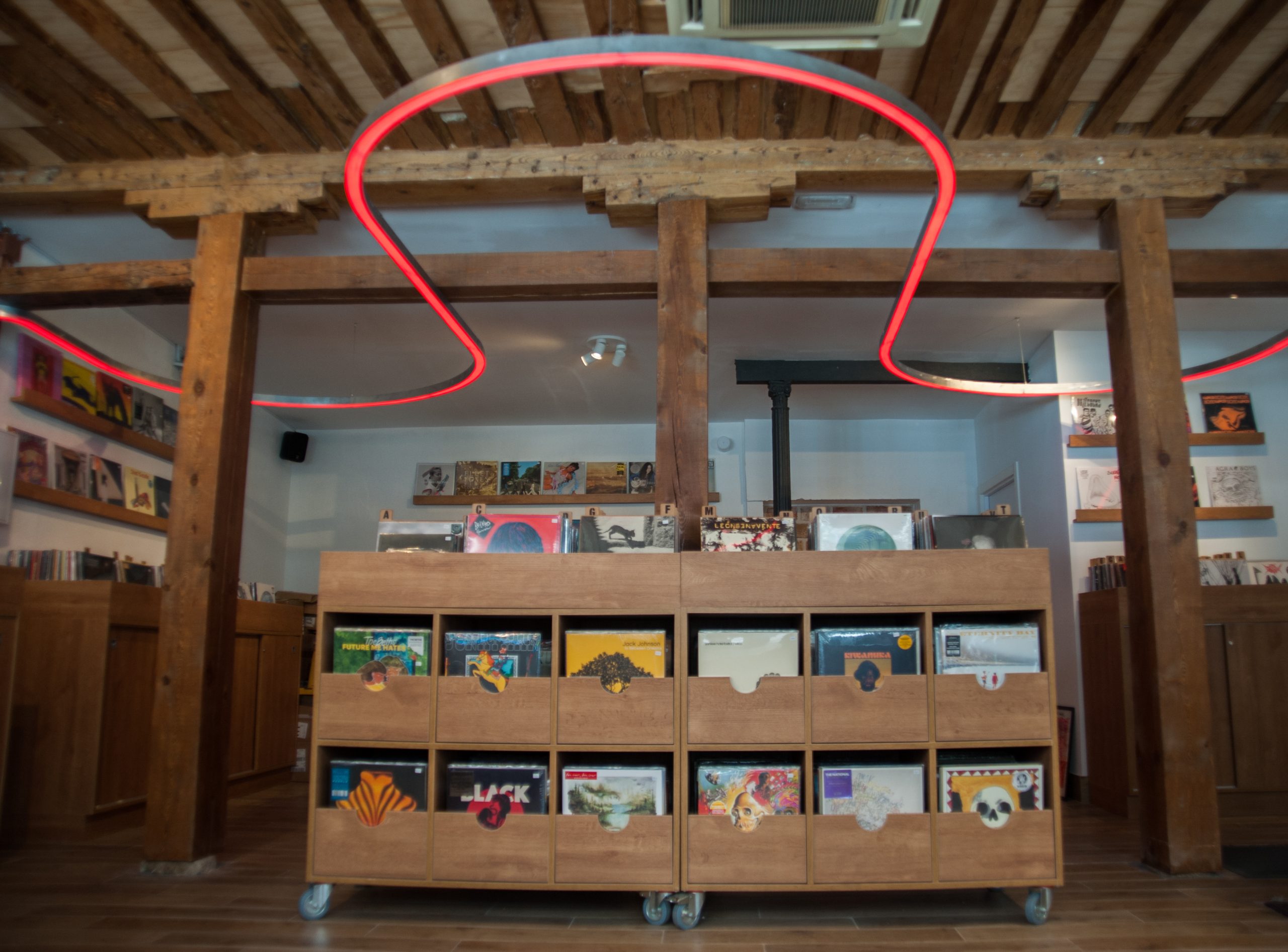 Looking for electronic music vinyl options? 'Radial Records' is basically the Eden of cult electronic music in Madrid. 
This store, which opened not so long ago, has already gained popularity for its fantastic selection, offering records from unique labels and artists from all over the world.
Put on an album of your choice, the shop has tons of turntables available for you to use. Hernán, the store's owner, is always ready to lend a hand and help you out to choose the best option.
Where is it? Radial Records (Calle del Conde Duque, 7)
Recycled Music Center (RMC)
'RMC' is a small yet great vinyl-focused shop that sells new and secondhand types of vinyl from all genres and artists, especially electronic. It's frequented by the most diligent crate diggers as it's not uncommon to find hidden gems inside this store's four walls.
Where is it? Recycled Music Center (Calle de la Palma, 39)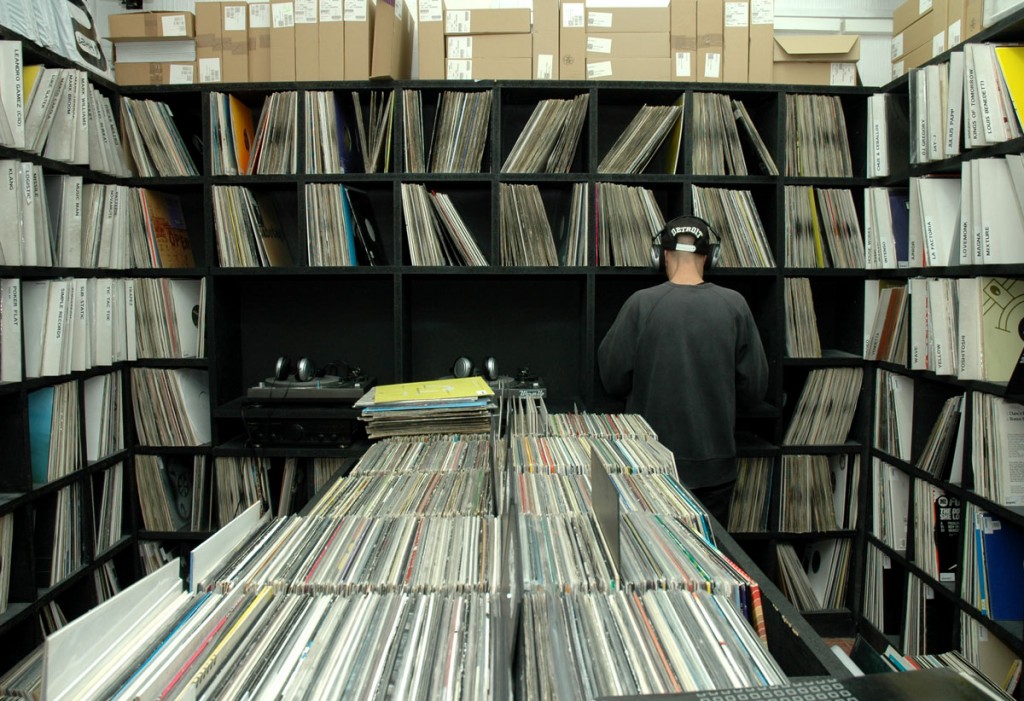 Furthermore, they frequently like to organise DJ workshops for those who are looking to learn the mixing mastery of turntables. They also usually invite DJs to do sets that are streamed online.
*Are you a music lover? Make sure you check out Urban Campus on Spotify and follow our latest playlist!
A true place of everything that Malasaña stands for. We wanted to mention this special bookshop located in the heart of this neighbourhood, Plaza Dos de Mayo. 
'Rincón de Lectura' is a timeless place dedicated to buying and selling secondhand books. Their shelves are full of wonderful and diverse books of all topics and formats at affordable prices. An indispensable place to visit if you're ever close by.
Our Urban Campus Community bookworms would love this place to get new books and recommend them to the rest of the community during their monthly book exchanges.
Where is it? Plaza Dos de Mayo, 5
Oh, beer… Who could resist a cold craft beer on a hot summer day? 
If you are a beer lover, make sure to stop by 'Fábricas Maravillas'. They claim to have true Malasaña beer, so fresh and hoppy that it's worthy of holding this title.
This place has its own microbrewery and makes its own craft beer. Customers have the chance to visit the small 'factory' and try out new beers that are continuously being elaborated.
Where is it? Calle de Valverde, 29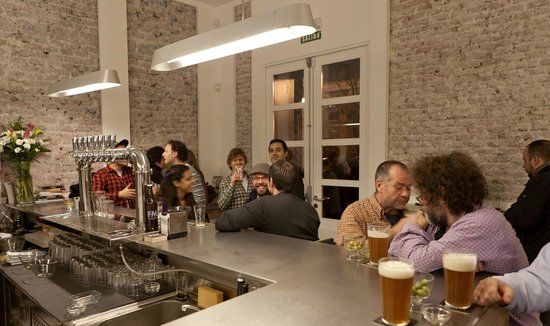 Have you done any of these things before or visited any of these places? If not, make sure to check them out and keep exploring the wonderful Malasaña neighbourhood, each street and every shop is filled with a unique story of its own.
Picture sources: