In recent years, a new housing trend has been sweeping across big cities worldwide, offering a fresh approach to communal living. Known as coliving, this housing model has gained immense popularity for its innovative approach to shared living spaces. As this concept continues to grow and gain public attention, you might find yourself wondering…what is coliving? Well, we are here to help explain exactly that. 
What is coliving?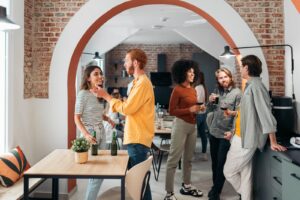 Technically speaking, coliving is a broad term that encompasses various communal living arrangements. Coliving involves sharing a living space with like-minded people of a similar age group, which in turn fosters a sense of community and connection. Professional hosts typically manage coliving spaces and facilitate the communal experience, unlike with traditional roommates. Here are some key characteristics of coliving:
Intentional Community: Communities are often formed with a specific purpose, uniting people who share similar values, interests, or lifestyles.
Flexible Design: Spaces are flexibly designed and fully furnished. Residents can move in without the hassle of setting up a home from scratch.
Multiple Roommates: There are typically five or more adult roommates who live together.
Flexible Leases: Most arrangements offer flexible lease terms, allowing residents to adapt their stay easily and according to their needs.
Convenient Perks: There are special amenities like cleaning services, making daily life more comfortable and convenient.
Different types of coliving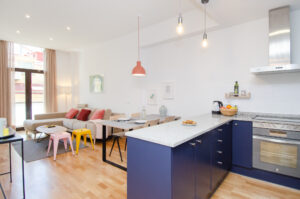 Informal (or "Traditional") Shared Housing
This type of coliving involves a group of individuals who share a lease and furnish a home together. People can form these shared housing arrangements through personal networks, and with the help of platforms like Facebook and Instagram.
Adult Dorms
Similar to university dorms or hotels, adult dorms feature private rooms surrounded by common areas. A large number of residents share these common zones and communal spaces, and also share useful amenities. Spaces like these are typically built to house a large number of residents, around 100 or more. 
Co-ops
Cooperative housing involves residents who collaborate to manage the house they are living in, taking turns with tasks such as cleaning and cooking. Residents living in co-ops set their own rules and manage the space themselves. The number of residents can range from 15 to over 100. 
Co-housing
Co-housing communities consist of single-family homes within one large, common house. Residents share green spaces and often organize events, creating a close-knit community.
Coliving Trips
For a short term, activity-packed experience, coliving trips bring together entrepreneurs and digital nomads from diverse backgrounds in a new place.
Coliving Spaces & Buildings
Coliving spaces are specially designed environments where like-minded individuals of similar ages and values live together. These spaces often revolve around a sense of creativity and entrepreneurship. Each resident has their own private unit, which can range from smaller studios to larger apartments. Plus, the provider typically organizes a variety of community activities that residents can enjoy.
What is the difference between coliving and roommates?
While coliving involves shared living spaces with a community-oriented approach, roommates typically refer to individuals who share living space without any sort of structured community. Coliving often emphasizes shared values and experiences, while roommates may simply share the cost of housing.
Who is coliving for?
Coliving is suitable for a wide range of individuals, including:
Young People:

Especially those looking for people with similar interests and desires.

Open-Minded Individuals:

Those looking to expand their social network and embrace a sense of community.

Newcomers:

People who are new to an area or city and want to quickly integrate into a community.

Professionals and Entrepreneurs:

Particularly those seeking an environment filled with creativity and passionate individuals.

Community Enthusiasts:

Those who value being part of a supportive community that fosters personal growth.
At Urban Campus, we have designed our spaces with young professionals in mind. We welcome people from all corners of the world, often between the ages of 25 and 40, who are freelancers or entrepreneurs, or who work for startups or larger corporations.
What are the advantages of coliving?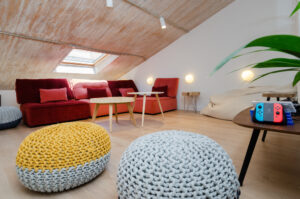 Knowledge Sharing and Networking:

there is increased encouragement of professional and personal networking, allowing residents to learn from each other.

Ease of Making Friends:

It's easier to meet new people and make friends, especially in a new city.

Inspiration for Creativity and Collaboration:

The diverse and dynamic environment can spark new creative ventures.

Flexible Leases:

There are often flexible lease terms to accommodate residents' changing needs.

International Environment:

Coliving often brings together people from all over the world, creating diverse cultural communities.
Why is coliving so popular?
Several key factors explain the popularity of coliving. In an age marked by digital interactions, the desire for genuine community and connection has driven many people to embrace coliving as a means of forging meaningful relationships. Additionally, the convenience and amenities enhance the quality of daily life, especially since flexible lease terms cater to those with changing plans. Furthermore, coliving's appeal lies in its ability to draw individuals with inventive and creative spirits, fostering innovation and collaboration.
Why stay with Urban Campus?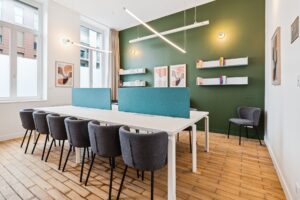 Since 2016, Urban Campus has been creating top-notch coliving spaces for young professionals in France and Spain. Here's why we believe our spaces are the best around. 
Flexible Leases:

We require only a 30-day notice period for changes or cancellations, providing flexibility to residents.

Long-Term Community:

The average stay at Urban Campus is 12 months, fostering the development of long-lasting relationships.

All-Inclusive: We provide everything from furnishings and utilities to cutlery, plates, Wi-Fi, cleaning, and laundry. You only have to worry about one payment each month for everything. See everything included in our spaces here.  
Simplified Online Process:

Urban Campus offers a streamlined online application process for a hassle-free experience. 

Built-in Community: Our exciting monthly events, including everything from language exchanges to beer tastings to sports tournaments, create a vibrant sense of community.
FAQs about coliving
Is coliving available for couples? 
Yes, at Urban Campus we can accommodate couples.
What is the average length of stay? 
At Urban Campus, the average length of stay is 12 months.
How can I find more information? 
To learn more, you can explore our different Urban Campus spaces on our coliving page.
Can I cancel or extend my stay? 
Of course! You can cancel your stay at Urban Campus with a 30-day notice period after the initial minimum stay duration. The minimum stay duration depends on your specific city and space.