24 Jun

A Brief Guide to Finding a Job in Madrid

Living in Madrid can truly be an amazing experience. But before we get there, it's no secret that looking for a job can be a job in itself, and a tough one too. Being patient and selective as to where we apply, being aware of our competitive edge and the situation in the job market is key to success. We know moving to a new place can be challenging, at Urban Campus we're here to help, with a few tips to help you start your job hunt in Madrid.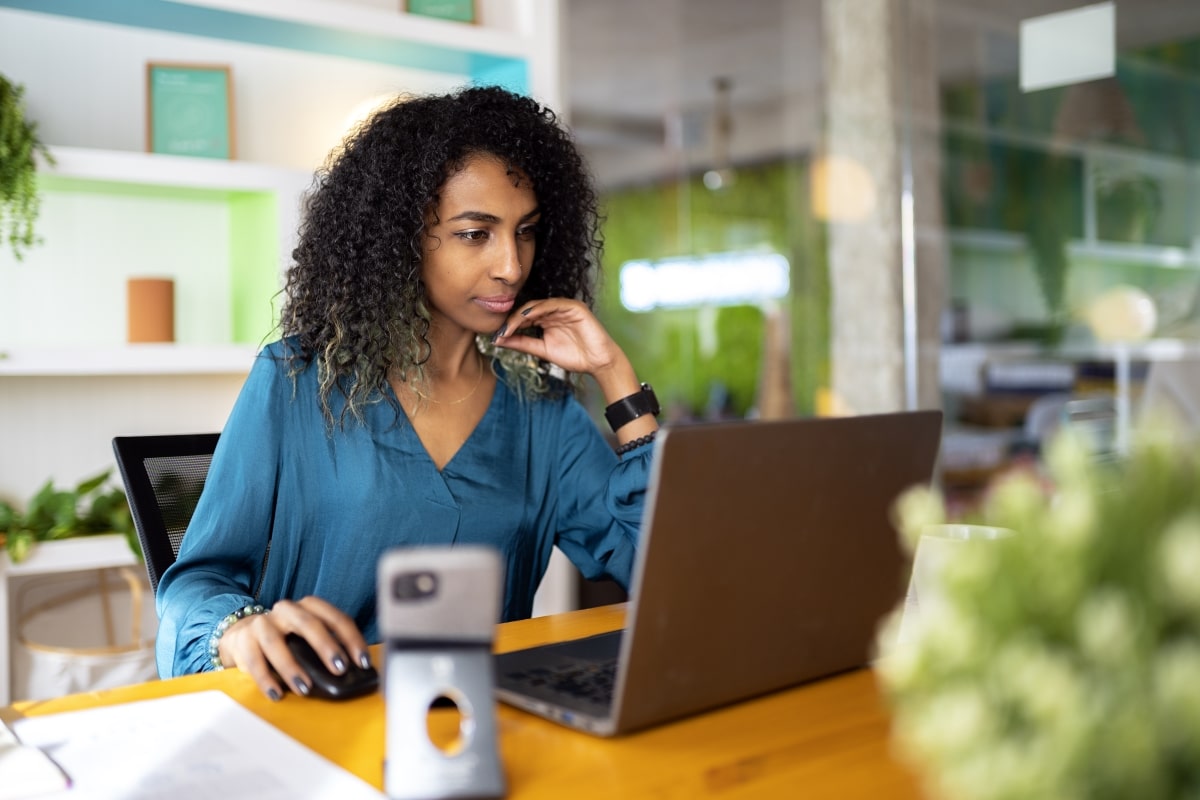 Coworking at Urban Campus Mellado Madrid Coliving
Set a realistic objective and stick to it
Before looking for a job, set yourself an objective, make it realistic and establish a deadline. To do this, it is important to understand the current job market in Madrid. You can do this by staying up to date with new reports and statistics from reliable sources like La Comunidad de Madrid, SEPE or newspapers like El País and ABC.
You should then determine which industry or type of job you would like to strive for while setting a time limit by which you should ideally have found it.
Bear in mind that Madrid is not a cheap city, at least by Spanish standards. Living costs are among some of the highest in Spain, and leasing, especially in the centre, can be expensive. 
With traditional leasing, a studio in a good area can cost around 950€ plus expenses which would add up to around 1100€ per month. This, without mentioning agency fees and entry deposits.
Fortunately, there are a few options, like coliving, which include expenses and allow you to feel part of a wonderful community of professionals with whom you can bond from day 1. If you're looking for a place to soft-land and save money, definitely check Urban Campus Coliving spaces out.
Urban Campus Mellado Madrid Coliving
Start local and be vocal
Spread the word and don't be ashamed to share your search in your immediate circle! Family and friends can go a long way to help out. Consider that each of them might also have a range of contacts, in Madrid, or might know of someone who does.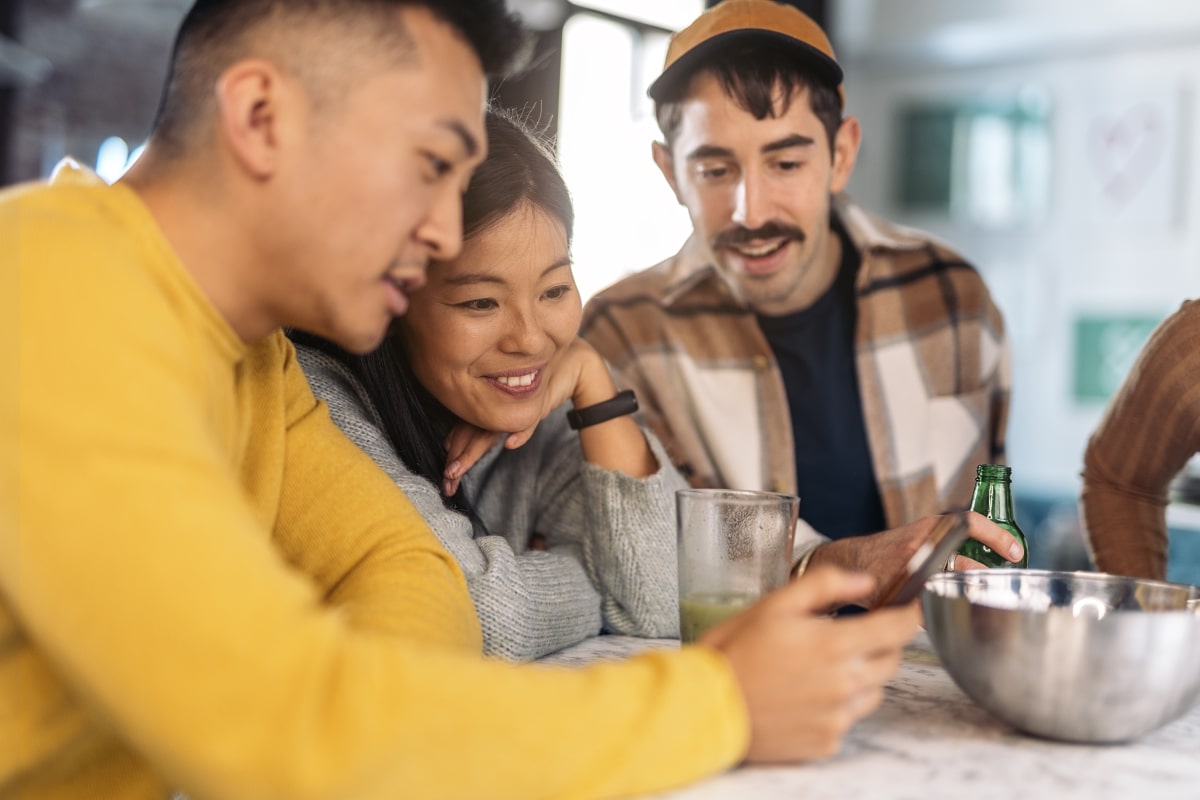 From there, broaden your horizons. Contact people you've crossed paths with, who might live in Madrid or who might know someone who lives in the city, like ex-work colleagues, former university classmates or teachers. These people who are already acquainted with you could connect you with a good job opportunity or a talent seeker.
Finding it hard to get back in touch? Try LinkedIn. Your profile is already laid out as a digital CV with all your professional information all you need to do is make the first move and reach out.
Lastly, remember to attend networking events in the specific industry you would like to work in. Madrid is a very attractive city for new startups and expanding companies, which means there are always opportunities to participate in professional activities and events. It's a great way to meet new people who could be hiring or looking to collaborate. Malt, a platform for freelancers, is also a great place to find professional and networking events. Another option is Meetup, a social network to find events or activities or join groups of people with similar interests, you can also create your own.  
At Urban Campus, we're always looking to create opportunities for professional growth and are constantly organizing activities with partners at our coworking and coliving spaces. Among them are workshops, talks, and interactive panels, allowing you to network and meet top professionals from many sectors. Stay up to date about our upcoming events and don't miss out!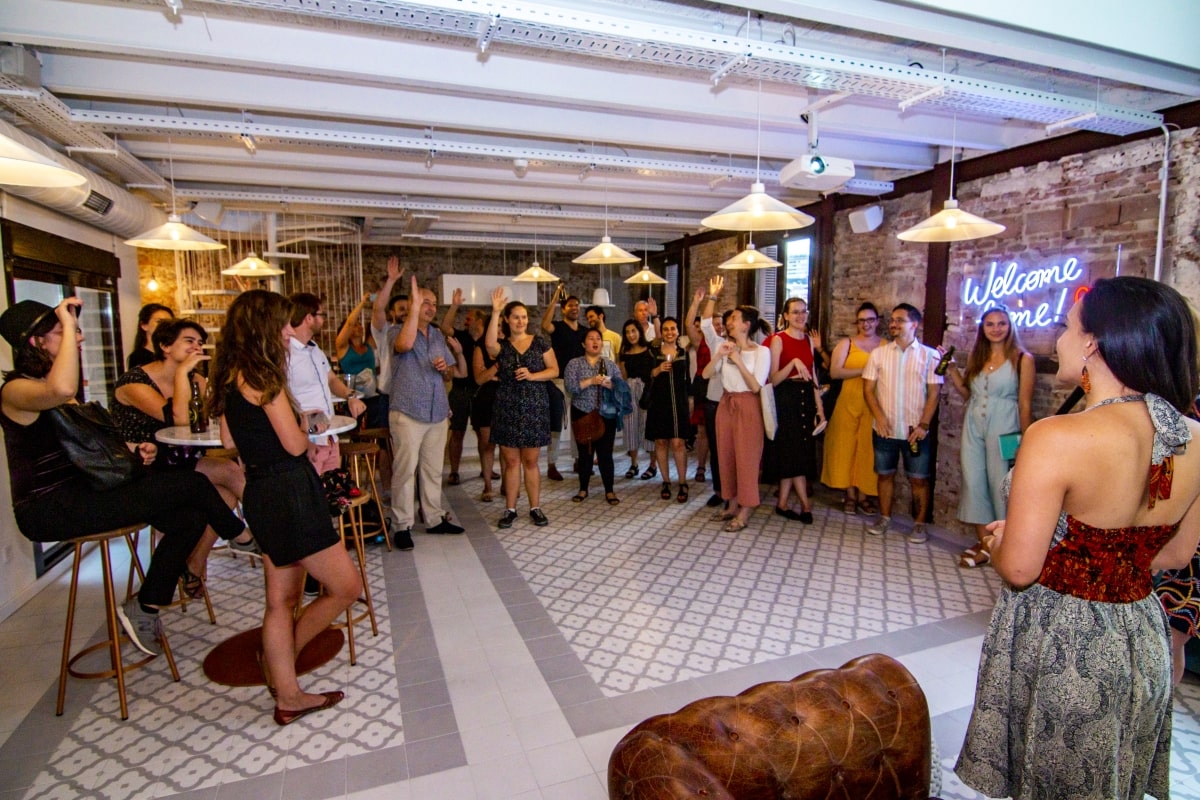 Networking event at Urban Campus Malasaña Madrid Coliving
Keep an eye on job portals
While going online to search for anything and everything is basically second nature nowadays, we don't always know where and how we should look for job opportunities online.
The biggest job portal in Spain is InfoJobs, with over 11.000 job offers in Madrid (as of today). Here, you'll find positions in all sectors and for any experience level. They have filters that allow you to search geographically, by posting date, post category, minimum studies, and experience or minimum salary expected. You can also create job alerts to get emails with new job openings so you can be the first to apply whenever you see a juicy offer. 
Another big job portal is Indeed which is a meta-searcher. This means that it searches for job offers in other job portals and groups them on its website. This will allow you to save time and be more efficient with your searches as you get visibility of many job portals on a single website. Similarly to InfoJobs, Indeed also allows you to create job email notifications and can is easily accessible with its mobile app for both Android and iOS. Additionally, it also has its own job openings on the website which are regularly updated.
If you're a designer or have creative skills, you have to check out Domestika, a portal that manages a community of creatives and allows companies looking for creative profiles to post job openings. In this portal, you can find job offers in creative categories such as animation, architecture, design, photography, advertising and many others. You can filter and do specific searches so you only get job offers that interest you in terms of location, category, skills and types of positions  (half/full-time, project, freelance etc). Domestika also offers a wide range of courses for creative professionals looking to learn new skills. They have great video courses on illustration, marketing & business, craft, photography, design, 3D animation, technology, calligraphy and typology.
It lets you check out cool projects from other users and it even allows you to follow them so you can stay updated about any new stuff they might be working on.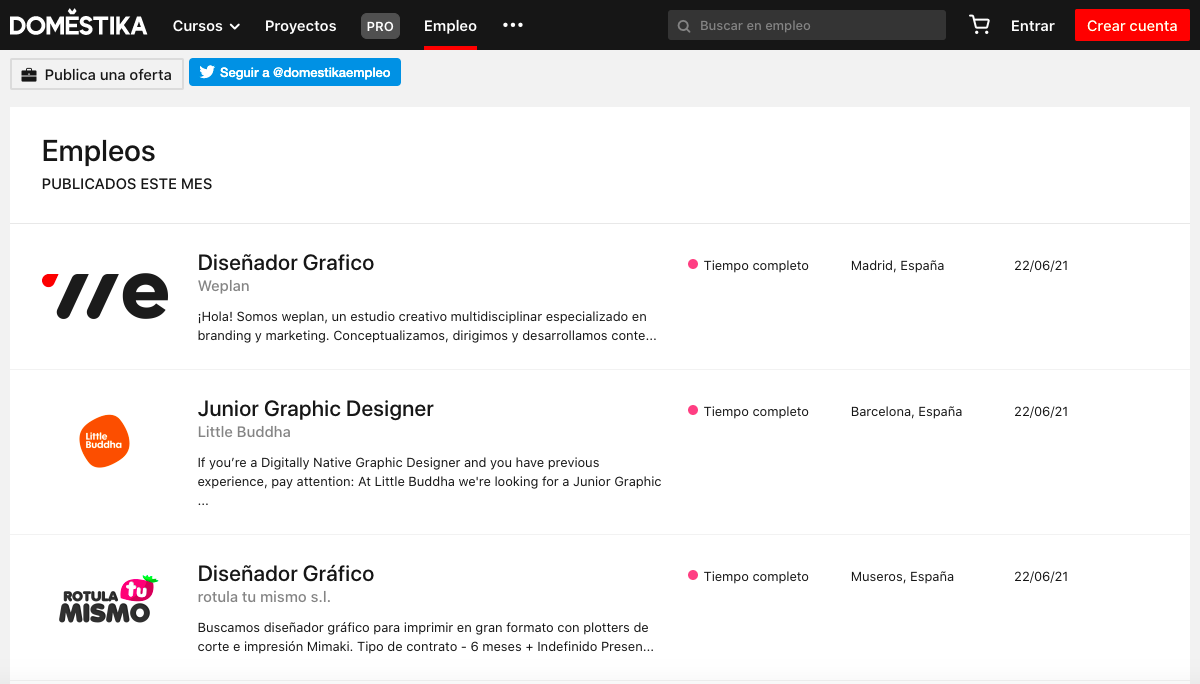 For marketers, Empleo Marketing is your place as it focuses exclusively on marketing positions. There are job openings from all over Spain but it also allows you to filter by region, by category, type of contract and working hours. A disadvantage is that it does not allow you to search by skills so you'll need to go into each individual offer to see the requirements.
Another great job portal is Welcome to the Jungle which, as their tag line says, can help you find the 'tribe' you belong to, getting the right job at the right company. They connect people looking for jobs with companies that are frequently hiring due to rapid growth (like start-ups & scale-ups) and share their values with others.
In this portal, you can find detailed information about companies, allowing you to select those that fit your profile better to apply to those. They also have a great blog section and frequently share content about professional tips, trends, pain points, or interview recommendations to make you the perfect candidate.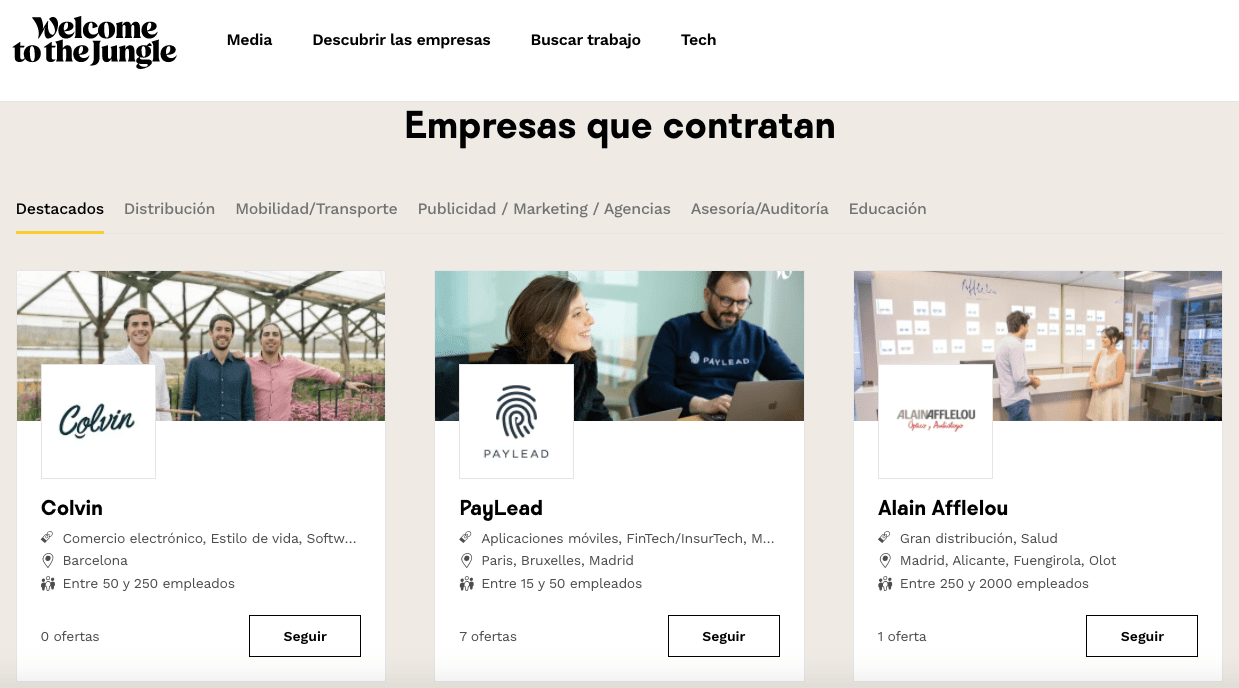 Alternatively, Linkedin is a professional social network and a great place to search for job opportunities with their "Jobs" feature. You can easily search by keywords, title, skill, or company. For example, Digital marketing, Google Adsense, remote working in Madrid. Boom! See how hundreds of job offers unfold before your eyes. If you need, you can also filter even more by applying different parameters such as "date posted", "Experience level", "Company", "Job type", possibility to work "remotely" and much more. This will allow you to easily visualize any good potential opportunities which may fit your profile.
Finally, don't forget to keep an eye out for companies looking to grow nationally or expand into Spain. The press is quite involved with these new companies growing or arriving in Madrid. Stay up to date with BusinessInsider, ElReferente, Expansión or Forbes.
Leveraging the Urban Campus Community
Even though Madrid is known to be a welcoming city, moving to a new place with no other connections or previous knowledge of how to get around can always be quite challenging. But as the saying goes, "In the middle of difficulty lies opportunity."
Having somewhere to 'soft land' can make things so much easier. Arriving in a place where there is already an established network of people can open up new doors and opportunities even when you weren't even looking for them.
At Urban Campus, we have developed a community of engaged professionals which make up an incredibly powerful network. Members can refer you to people they know are hiring, and both our coworking and coliving spaces are home to numerous entrepreneurs, startups and larger companies who share job openings directly within the community.
Even if you're not looking for a job, you can always find people with similar interests or passions eager to create new projects and form synergies. If you're curious to learn more about a project created at Urban Campus, don't hesitate to read more about it here.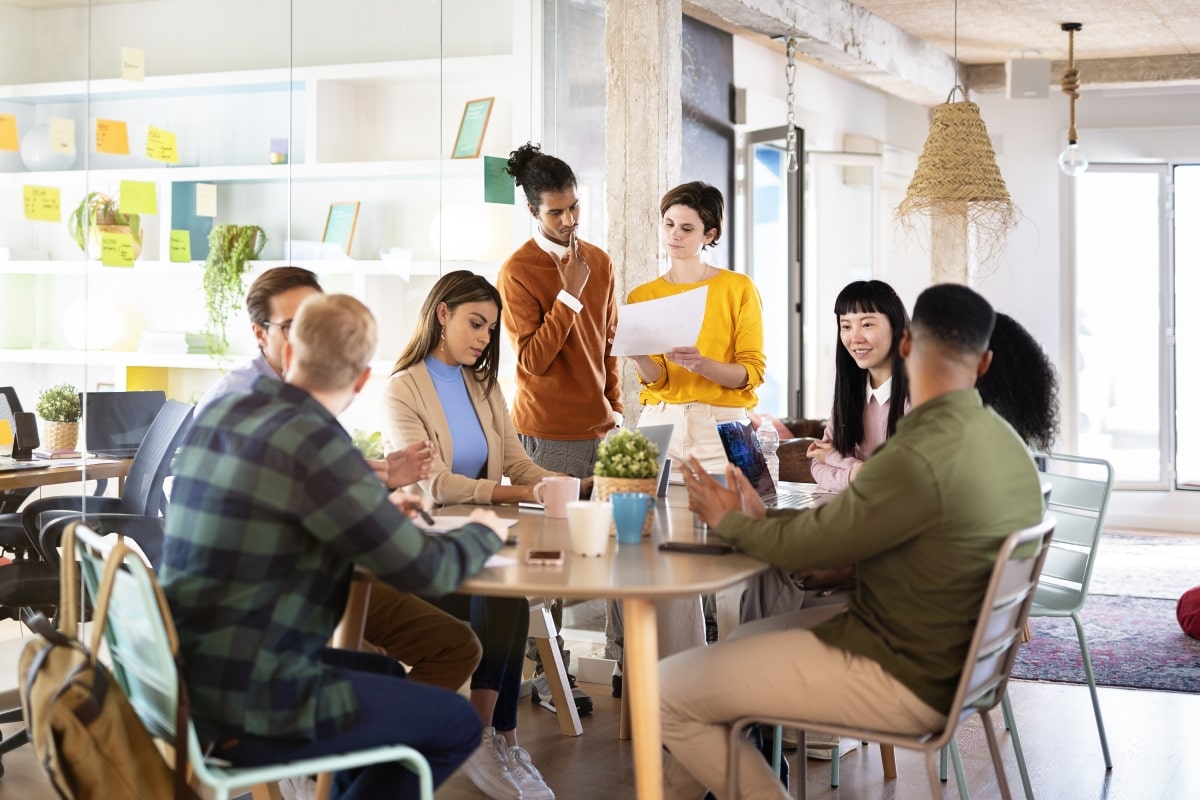 Urban Campus Mellado Madrid Coliving – Common area
Keep a good spirit and be patient
In the end, anything that is worthy deserves patience. As Aristotle once said, "Patience is bitter, but its fruit is sweet."
We hope these tips come in handy and can help you start your job search off in Madrid on the right foot. Think smart and be patient! Your opportunity is out there.
Curious about our Coworking and Coliving spaces? Do not hesitate to get in touch with us and join our community.