When it comes to the world of real estate investment, there are two primary categories that prospective investors often consider: commercial and residential properties. Both of these categories serve distinct purposes, offer unique advantages, and require different strategies for success. In this comprehensive guide, we will explore the benefits of commercial vs. residential real estate, as well as emerging real estate trends. Plus, we will outline some essential steps to embark on a successful real estate investment journey. 
Types of Real Estate: Commercial vs. Residential Real Estate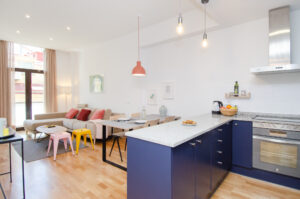 The fundamental distinction between commercial vs. residential real estate lies in their intended use.
Commercial properties encompass a wide range of real estate assets, including office buildings, retail spaces and industrial warehouses. These properties are primarily used for business activities, typically housing commercial tenants who rent space for various business operations.
Residential properties, on the other hand, include single family homes, duplexes, apartments, condominiums and multifamily properties. These properties are designed for individuals and families looking for a place to call home. 
Benefits of Commercial vs. Residential Real Estate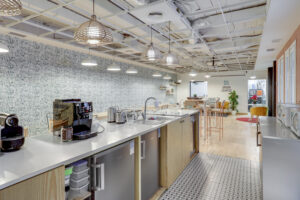 Commercial Real Estate
Commercial properties offers a range of advantages for real estate investors. First, commercial properties often provide higher rental income potential compared to residential properties. Businesses are usually willing to pay a premium for space in areas with high foot traffic and visibility, making commercial properties a potentially lucrative investment. Stable, long term leases are also a common feature of commercial real estate. Commercial leases can be more lengthy than residential ones, providing more security for the investor. Commercial tenants often commit to multi-year leases, reducing turnover and vacancy rates.
Residential Real Estate
Residential leases typically come with predictable rental income, as residential tenants are often individuals or families seeking a stable place to live. Lease terms are generally shorter, providing opportunities to adjust rental rates more frequently. Managing residential properties can be less complex, especially in the case of single-family homes or small multifamily properties. Plus, residential properties can also experience property appreciation over time, contributing to the overall return on investment.
Steps to Embark in Real Estate Property Investment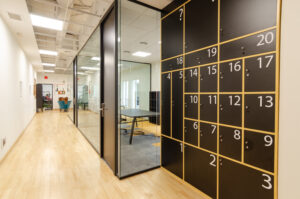 Depending on your interests and goals regarding commercial vs. residential real estate, it is important to consider the following…
Educate Yourself: With commercial properties, begin by thoroughly understanding the types of commercial properties available and their associated risk profile. Consider the specific requirements of businesses in your target market. For residential properties, gain a deep understanding of the local residential real estate market, property types, and tenant demographics. Stay informed about current market trends.
Secure Financing:

Explore various financing options, including

initial costs and loans with lower loan-to-value ratios.

Assess your financial capacity to determine the best financing approach.

Conduct Due Diligence:

Conduct thorough market research, evaluating property

potential for long-term growth

. Assess factors such as location, market demand, property condition and

property management requirements. 
Network:

Focus on

building relationships

with commercial or residential

real estate agents, brokers, and property owners,

and even local real estate investment groups. Networking can provide insights into market trends and opportunities.

Lease Negotiations:

Develop strong negotiation skills, and familiarize yourself with applicable laws in your area. Understanding the needs of your future tenants is crucial to this step.
Residential Real Estate in Spain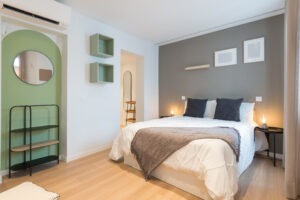 The residential real estate market in Spain remains a robust sector for investment. In 2022, home sales in Spain increased by 14.7%, totaling 649,712 transactions, as reported by the National Statistics Institute (INE). This figure is the second-highest in history, only surpassed by the year 2007. Notably, the most significant transactions occurred in major cities like Madrid, Barcelona, Málaga, Sevilla, and Valencia, where populations exceed 50,000. 
The entire year of 2022 marked a historic high in residential market investment, totaling 15.4 billion euros. This demonstrated a 35% growth compared to 2021 and a 21% increase over the previous peak in 2019. Additionally, investment in Build-to-Rent (BTR) and Private Rental Sector (PRS) projects reached a historic high at 2.6 billion euros in 2022. These numbers highlight the enduring strength of Spain's residential real estate market.
Coliving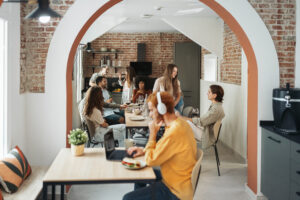 Coliving is a rapidly growing real estate trend gaining popularity not only in Europe but on a global scale. It involves residents sharing a property, often a spacious house, building, or multi-bedroom apartment, with private rooms for each tenant and communal spaces that foster a sense of community. The growth of coliving can be attributed to shifting socioeconomic dynamics like increasing housing costs and changing lifestyle preferences. All of these factors offer promising prospects for the continued development of the coliving sector.
Coliving occupies a unique position in the real estate landscape, as coliving properties can be managed commercially or residentially. Urban Campus, for instance, takes a residential approach to managing coliving spaces. Our properties have a diverse range of private units and lively communal areas, such as lounges, coworking spaces, terraces, gyms, shared kitchens, and patios. An additional value of coliving is the strong sense of community. At Urban Campus, we organize engaging events that help facilitate these connections, which can be especially meaningful in the midst of a bustling urban city.
Check out Urban Campus' most recent real estate projects here: