Imagine this: Lille, a serene city nestled in northern France, suddenly transforms into a frenzy of exhilaration and delightful chaos. Crowds swarm the streets, drawn by the allure of unbeatable deals and charming trinkets. People rush to bargain with vendors while the aroma of traditional Flemish food drifts through the air. Music, smiles and laughter are all around as people enjoy an unparalleled, one-of-a-kind cultural experience. 
This paints the picture of La Braderie de Lille, the largest flea market in all of Europe. La Braderie de Lille takes place every year during the first weekend of September and features more than 8,000 vendors selling clothes, books, antiques and more. The renowned event welcomes roughly 2 million visitors, and has grown in recent years to include concerts, rides, food stands and even a half-marathon!
You certainly don't want to miss the 2023 market, which is scheduled for September 2nd and 3rd. La Braderie de Lille is an exceptional opportunity to delve into Lille's traditions while partaking in unique festivities with friends and colivers.
The History of La Braderie de Lille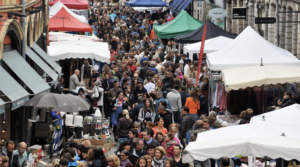 The roots of La Braderie de Lille can be traced back to the 12th century, stemming from Flemish fairs in the Middle Ages. The origin of the market is specifically linked to a secondhand fair that took place in the year 1127. The event repeated annually, gaining more and more popularity each year. Eventually, the market offered the opportunity for housekeepers and servants to sell their masters' old clothes and possessions. This skyrocketed its popularity, as it became a way for the lower class to supplement their income. 
Throughout its history, the Braderie underwent several transformations, evolving both in its concept and presentation. Today, it is one of the largest gatherings in all of France. Its reputation is known far beyond France's borders, and each year the market entertains both locals and visitors from all around the world. Steeped in tradition yet embracing modernity, La Braderie de Lille has earned its place as a cherished event that showcases the culture of Lille to the world.
Mussels & Fries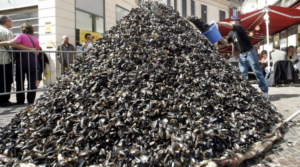 Central to La Braderie is the iconic dish of moules-frites, or mussels and fries. While the dish's exact origins remain unclear, one theory suggests that repeated poultry epidemics led to a rise in popularity of mussels as a traditional food. Now, the menu at La Braderie is dominated by mussels and other traditional Flemish dishes, which always pair well with a refreshing beer. As part of the festivities, local restaurants take part in a unique challenge by piling emptied mussel shells outside their entrances. The restaurant that manages to build the tallest shell heap earns the distinction of being the festival's top restaurant.
The Half-Marathon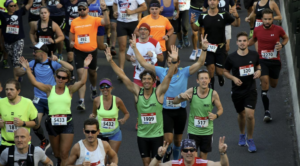 The Braderie half-marathon kicks off the festivities and sets the stage for the whole weekend. As the sun rises on Saturday morning, tens of thousands of eager runners prepare to race. There are 3 different options – 5, 10 or 21 kilometer races – allowing runners of various levels to participate. The half-marathon started back in the 1980s and now attracts many international participants. It has become an essential part of the Braderie itinerary. After crossing the finish line, participants usually head straight for a plate of mussels and fries. If you're interested in participating, you can secure your own spot by registering for your preferred race on the official site.
Preparing for La Braderie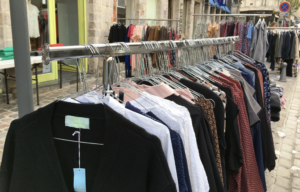 Get your accommodation
Reserve accommodation in advance. As there are many people traveling to Lille for La Braderie, it is wise to book something as soon as possible. If hotels are filling up, consider staying in a nearby city or even taking a train from Paris or Brussels. Of course, if you are living with us at

Urban Campus Saint So', Lille Coliving,

you've got nothing to worry about.
Use the official map
You'll want to get a hold of the official Braderie map, typically released a few weeks before the event. This map is a valuable resource with a layout of the market vendors, helping you pinpoint exactly which areas you want to visit.
The earlier, the better
Just like any typical garage sale or fair, the first day at La Braderie is your best chance for top-notch deals. The selling kicks off around 8am on Saturday, but rumor has it that Friday evening might be the best time to secure quality bargains.
Prepare to walk
Opt for your most comfortable walking shoes and leave your car, bike or scooter at home. The flea market spans an expansive area, with around 100 km of stands scattered throughout Lille. Be ready to walk!
Bring cash and be aware of pickpockets
For smoother transactions with vendors, it's advisable to carry cash. However, in bustling crowds, be vigilant about pickpockets and keep your valuables close to your body. 
La Braderie de Lille stands as an essential experience for lovers of culture, adventure, and of course secondhand shopping. There is something for everyone to enjoy, whether it be quality live music or time spent eating delicious food. So, as this year's Braderie approaches, only one question remains: will we see you there?