Are you curious about the benefits of coliving? 
In today's fast-paced and interconnected world, the way we live and work is transforming. Enter coliving – a concept that redefines traditional living arrangements, offering a blend of community, convenience, and flexibility. Let's explore the benefits of coliving and how it can enhance living experiences. 
What is Coliving?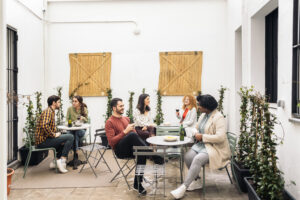 Coliving is a modern form of communal living that goes beyond the mere shared housing. It's an urban-centric accommodation solution, ideal for people new to a city, seeking an easy housing option, or looking for meaningful community. 
Coliving spaces are typically fully-furnished and integrate extensive common areas like coworking spaces, terraces, and gyms, promoting a blend of privacy and community living. Plus, they offer intetional communities of like-minded people.
Brief History of Coliving
The concept of coliving, akin to 'coworking', originated in Silicon Valley, a hub for young professionals and entrepreneurs. It evolved as a response to the unaffordable housing options in bustling urban centers. Initially, it was seen as a university residence for working professionals, but it has since expanded globally, adapting to diverse urban needs and lifestyles. Now, the benefits of coliving for a variety of different demographics are widely recognized. 
Key Benefits of Coliving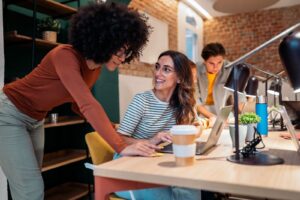 Combatting Isolation:

Coliving offers an environment where residents can connect with like-minded individuals, reducing feelings of loneliness and enhancing social interactions.

All-Inclusive Living:

Coliving spaces often

include all essentials

like utilities, Wi-Fi, and furniture, simplifying living arrangements and reducing the hassle of managing separate bills.

Flexible and Affordable Housing:

Coliving provides a cost-effective solution for housing in expensive urban areas, with flexible contracts and a range of accommodation options.

Community and Networking:

Coliving spaces foster a sense of community, encouraging collaboration,

professional networking,

and social activities among residents.

Innovative Living Spaces:

Modern coliving spaces are designed with a focus on fostering social interaction and providing comfortable, functional living areas. Most colivings include

common spaces

like coworking areas, shared kitchens, cinema rooms, living rooms, patios, terraces and more. These can be especially useful for

digital nomads

or people who

work remotely. 
Coliving with Urban Campus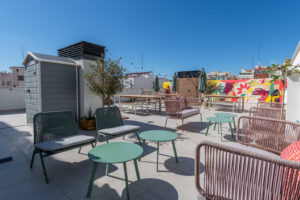 Urban Campus is leading the way in the coliving movement, providing premium living spaces in pivotal urban areas. At the heart of Urban Campus is a commitment to fostering a supportive community. We strive to create environments where residents feel a sense of belonging and happiness, reducing overall feelings of loneliness. 
Urban Campus coliving spaces are vibrant hubs, hosting a variety of social events each month to strengthen community bonds and friendships. Our spaces are a unique melting pot, blending locals with individuals from around the globe. We cater specifically to young professionals, which has translated into a highly entrepreneurial and creative communities. 
Additionally, there are a variety of communal areas and private living spaces to enjoy. Each of our coliving spaces offers a range of private rooms and studios to choose from. You'll also find our signature common zones in all Urban Campus coliving spaces, which typically include: 
Gym

Cinema Room

Living Room

Shared kitchen 

Patio

Terrace 
Above all, Urban Campus offers flexibility and ease. We only require a 30-day notice for lease cancellations, providing residents with the freedom to adapt as their needs change. All of our spaces come fully furnished and equipped. Plus, the booking and application process is streamlined and completed entirely online.
Check out our dynamic coliving spaces here.