Are you ready to discover the best things to do in Lille, France?
Look no further! Lille is a charming city in Northern France known for it's stunning architecture and distinct culture. We've compiled a complete list of everything from restaurants and bars to unique in-person experiences that will give you a taste of the lifestyle in Lille. Whether you are new to the city or only have a short stay in Lille, the city has something special to offer you. Come with us to discover the best things to do in Lille, France!
Flemish Influence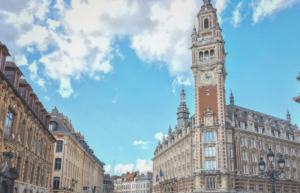 Lille is known for its strong Flemish influence, which is reflected in the city's architecture, cuisine, and general atmosphere. Taking a stroll with your fellow colivers through the historic Old Town is one of the best ways to marvel at the these architectural characteristics, which reflect a mixture of French and Flemish design. We also suggest exploring the Vieux Lille and Saint Sauveur neighborhoods, where you can discover several picturesque monuments. Lille was even awarded the impressive title of World Design Capital for 2020, honoring the one-of-a-kind architectural styles throughout the city. 
As far as architectural recommendations, we have a few. La Nouvelle Bourse, constructed in 1910, is a neo-Flemish bell tower. It is part of the Palais de la Bourse and is erected opposite the old 17th century stock exchange. The Roubaix Swimming Pool, built in 1927, is another must-see. The pool is housed within André Diligent Museum of Art and Industry, surrounded by statues and Art Deco displays. Plus, there is the façade of Notre-Dame de la Treille. This is a neo-gothic cathedral built with 100 slabs of marble and enormous stained glass windows.
Restaurants in Lille, France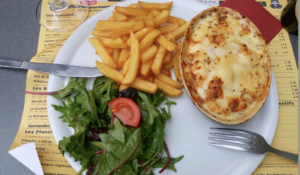 Lille is a fantastic place to try new dishes and expand your palate. You can try some of the local specialties, which include:
Carbonnade: a dish is made from beef, baked lard, onion, raw sugar, vinegar, light beer, rustic bread, mustard, salt, and seasonings.
Potjevleesch: a traditional Flemish dish consisting of onions, wine, vinegar, fresh herbs, and sheep, chicken, pig, rabbit, and cow meat, slowly simmered in a crock pot.
If you're looking for the best restaurants in Lille, check out the following places…
1. Octopus
Octopus is a go-to spot for any adventurous eater. This restaurant is known for their incredible octopus dishes. In fact, they even have a whole menu dedicated just to octopus. If you are craving something different, they also has a variety of other dishes including fish, veal, mussels and squid. Plus, you can peruse their extensive wine menu to pair with your meal.
Location: Octopus, 2 Pl. Sébastopol, 59000 Lille, France
2. Bloempot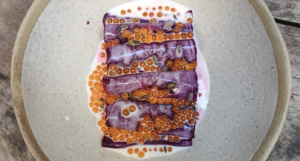 Bloempot impressively sources 100% of their food locally from only organic or wild farming. It is located in the heart of Vieux Lille with an elegant terrace. Bloempot offers the exciting option of an "experience menu", where the chefs decide what to cook and serve it to you with your eyes closed! As this is quite the popular restaurant, be sure to make a reservation in advance. 

Location: 22 Rue des Bouchers, 59800 Lille, France
3. Estaminet Au Vieux de la Vieille
Estaminet Au Vieux de la Vieille is a traditional flemish restaurant. The ambience, decoration, and music of this restaurant transport you to the northern taverns of the early 20th century. This is the perfect place to order Lille's famous Welsh, which is a hot plate made of ham, egg and cheddar. If you're just looking to relax with a coffee or beer, the vibe in Estaminet Au Vieux de la Vieille couldn't be better.
Location: 2 Rue des Vieux Murs, 59800 Lille, France
Bars in Lille, France 

1. Artchives
Artchives is a unique blend of a bar, restaurant, and art gallery. They are known for their chic cocktails, all made with creative recipes and distinct presentation. You can drink, eat, and enjoy their contemporary art gallery, which features artistic talent from all around the world. They also host fun events like live jazz music nights.
Location: 74 Rue Jacquemars Giélée, 59800 Lille
2. La Biche & Le Renard
La Biche & Le Renard is an intimate bar in Lille that's a favorite among locals and visitors alike. Renowned for its exceptional craft beer selection and expertly crafted cocktails, it's a must-visit during your stay in Lille. The bar's colorful interior decor adds to its vibrant atmosphere, creating a lively backdrop for drinks and dancing. With drag shows, spacious outdoor areas for large gatherings, and talented DJs, La Biche & Le Renard is the go-to spot for a dynamic and entertaining night out.
Location: 14 Rue de Gand, 59800 Lille, France
3. Quai Des Bananes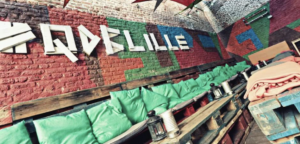 Renowned for their playful and visually stunning cocktails, Quai Des Bananes welcomes you into a tropical paradise. Amidst the smoky ambiance and lush, jungle-inspired decor, guests can explore their cocktail menu and also order from their snack menu. They have a menu of over 400 original cocktail creations, each with a one-of-a-kind flavor and aesthetic. Some cocktails even come with a full coconut on top of the glass!
Location: 84 Rue Royale, 59800 Lille, France
Cafés in Lille, France

1. Elizabeth's Tea Rooms
Elizabeth's Tea Rooms is a cozy tea room nestled in the city center's charming streets. With a French-inspired ambiance, it's the perfect spot to relax and enjoy a variety of hot or cold drinks. Their menu includes hot chocolate, tea, coffee, and fruit juice. They also offer a tempting selection of pastries, including gluten-free options, with cakes, muffins, brownies, cookies, and scones. Plus, on Sundays, they have a more extensive brunch menu to order from. 
Location: 71, Rue Basse, 59800 Lille, France
2. Pâtisserie Méert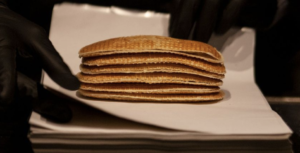 Méert, the city's oldest coffee shop, is a true place of history and tradition. Méert is perhaps best known for their exquisite Madagascar vanilla waffle, a decadent treat that's become a hallmark of luxury. Beyond the waffles, Méert tempts visitors with an array of chocolates, teas, sweets, and coffee that can be savored on-site or taken home. Check out their various spaces in Lille, which include restaurants, tea rooms and coffee shops.
Location: 27 Rue Esquermoise, 59000 Lille, France
Experiences in Lille, France

1. Le Zénith
Le Zénith is a massive concert arena that hosts over 60 concerts each year. With a seating and standing capacity of 7,000, including 4,550 fully seated places, it provides ample space for concertgoers to enjoy a wide range of performances. The stage, measuring 448m², is a versatile platform for various artists and events. Le Zénith features a diverse lineup, from Pink Floyd tribute nights to classical pianists and traveling dance shows, offering something for every taste in live entertainment.
Location: 1 Boulevard des Cités Unies, 59777 Lille, France
2. Gare Saint Sauveur
Gare Saint Sauveur is a bustling cultural center known for its wide range of cultural events. Throughout the year, it hosts festivals dedicated to cinecomedies, music performances, BBQ gatherings, and art exhibitions – just to name a few. The center maintains a diverse and ever-changing calendar, so it is always worth a look to see what is happening at Gare Saint Sauveur.
Location: 17 Bd Jean-Baptiste Lebas, 59800 Lille, France
3. Hôtel de Ville de Lille
The Hôtel de ville de Lille, known as Lille's Town Hall, is a prominent building in the city. This architectural gem was meticulously constructed between 1924 and 1932, showcasing an Art Deco style infused with Flemish neo-Renaissance influences. Notably, its belfry was designated a UNESCO World Heritage site in 2005, joining the ranks of numerous other belfries in Belgium and France. You can visit the building and climb the 104-meter high belfry for an incredible view of Lille.
Belfry Hours:
Open Wednesday to Sunday
10 am to 1 pm and 2 pm to 5:30 pm
by prior arrangement with the Tourist Office
Town Hall Hours: 
Monday to Friday, 8am to 5pm
Saturday, 8am to 12pm
Location: 59033 Pl. Augustin Laurent, 59800 Lille, France
3. Wazemmes Market (Marché de Wazemmes)
Wazemmes Market offers a classic outdoor market experience that captures the essence of French street markets. Visitors can explore a variety of offerings, from fresh foods, vibrant flowers, and produce to exquisite fabrics international products. One of the largest markets in France, Wazemmes Market exudes a charming "Soho" atmosphere, combining a bustling energy with a touch of cultural flair.
Market Hours:
Tuesday, Thursday and Sunday from 7.00 am to 2.00 pm.
Covered market from Tuesday to Saturday from 8.00 am to 8.00 pm
Sunday and bank holidays from 8.00 am to 3.00 pm
Public Transport:
Metro 1, stop Gambetta
Location: Place de la Nouvelle Aventure, 59000 Lille, France
4. Palais des Beaux Arts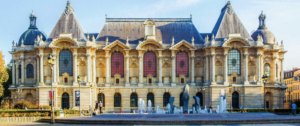 Palais des Beaux Arts stands as one of the largest and most prestigious art museums in France. Established in 1892, this cultural institution boasts a rich tapestry of artistic treasures that span centuries. Among its illustrious collection are antique pieces that date back to the 2nd century BC, alongside masterpieces by renowned artists such as Donatello, Monet, El Greco, and Picasso. The museum's diverse offerings provide a captivating journey through the evolution of art, making Palais des Beaux Arts an invaluable destination to visit in Lille.
Hours:
Monday 2 p.m. to 6 p.m.
Wednesday to Sunday 10 a.m. to 6 p.m.
Closed Tuesdays, 1 January, 1 May, 14 July, 1 November, 25 December
Public Transport: 
Metro – line 1, station: République Beaux-Arts
Bus – Bus lines 12 and 18, Citadine de Lille, Liane 1 and 90
Taxis – Lille railway station, Place Richebé
Parking – Place de la République – 300 spaces
Access for disabled visitors at the side of the building, on Boulevard de la Liberté
Location: Pl. de la République, 59000 Lille, France