How many people live in France? 
France is home to approximately 64.7 million people, making it one of the most populous countries in Europe. France's rich cultural heritage, world-famous cuisine, and historical landmarks attract people who want to live in France from all over the globe, contributing to its dynamic and multicultural society.
How much money do you need to live in France? 
The cost of living in France can vary significantly depending on the city or region you choose to reside in and your personal lifestyle preferences. In general, larger cities like Paris tend to have a higher cost of living compared to smaller towns and rural areas. On average, a single person might need a monthly budget of around €1,200 to €2,000 for basic living expenses, including rent, food, public transportation, and healthcare. However, this amount can be higher or lower depending on your specific circumstances and choices.
The best places to live in France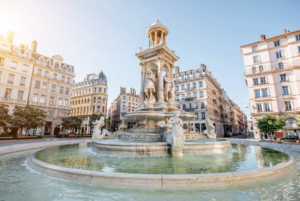 The best places to live in France can be a matter of personal preference and priorities. Some popular cities and regions known for their quality of life and cultural attractions include Paris, Lyon, Bordeaux, Nice, and the French Riviera. Each of these places offers unique experiences, such as world-class cuisine, UNESCO world heritage sites, beautiful landscapes, national museums and vibrant arts scenes. 
Lille, France is another fantastic place to consider when looking for the best places to live in France. This vibrant city, located in the Hauts-de-France region, offers a unique blend of French and Flemish cultures. Lille is known for its rich history, stunning architecture, and a thriving arts and music scene. It's also home to numerous universities and educational institutions, making it an attractive option for both students and young professionals.
Ultimately, where to live in France will depend on your individual needs and interests. It's a good idea to research different areas and weight all the pros and cons of moving to France. 
So, you want to live in France…do you need to speak French?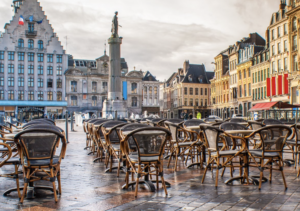 In short, yes. Learning French is an absolute necessity when moving to France. Regardless of your destination within the country, getting a grasp of the French language is imperative to integrate into the society and feel comfortable in the long-term. While English may be spoken by some in larger cities, the preference for French is evident. Learning the language is the key to truly connect with French people in daily life, work, or social interactions. Plus, French is the official language of 29 different countries around the world, making it quite a worthy investment to learn. 
Here are some basics to get you started…
Hello – Bonjour

Goodbye – Au revoir

Please – S'il vous plaît

Nice to meet you – Enchanté(e)

Thank you – Merci

What time is it? – Quelle heure est-il ?

Do you speak English? – Parlez-vous anglais ?

How are you? – Comment ça va ?

I'm great, thanks – Je vais bien, merci
Working in France 
If you're considering working in France, there are key aspects of the work culture to keep in mind. France is known for its 35-hour workweek, established as a labor reform in the year 2000. Working hours tend to vary by location and company, as many people claim that the 35-hour workweek can be somewhat of a myth. However, if you are working in France, you can definitely count on a large number of paid holidays. 
In general, the French take two things very seriously – leisure time and food.  Notably, lunch breaks can last up to two hours and are considered sacred. It was even previously prohibited by the French labor code to eat lunch at your desk. 
Healthcare & Retirement 
Healthcare in France is renowned for its high quality and accessibility. The country has a universal healthcare system known as "La Sécurité Sociale," which provides comprehensive coverage to all residents. The healthcare system even extends to expats living in France who meet certain criteria. French healthcare is funded through a combination of employer and employee contributions, along with government subsidies.
Get ready to travel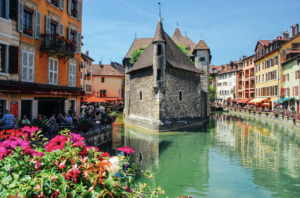 Before making your move to France, it's advisable to establish a travel budget. Traveling within France is incredibly convenient, with an extensive urban transportation network and high-speed trains connecting various regions. Whether you're settling in a bustling city or a charming town, having a dedicated travel fund allows you to explore the country. France offers iconic destinations like Paris, Marseille, and Nice, but the country is brimming with many places worth discovering. A few of our favorites include…
Annecy
Annecy, France,

just 35 kilometers south of Geneva, Switzerland, is a place of immense charm and romance. The city sits at the northern edge of Lake Annecy, which boasts the title of "Europe's cleanest lake." Its allure is amplified by two beaches; Plage la Brune in Veyrier-du-Lac and Plage Municipal in Saint-Jorioz. These spots offer delicious restaurants, pristine waters and even lifeguard patrols, making Annecy a must-visit destination for those seeking natural beauty and relaxation.
Carmague
Camargue, situated in the south of France, has a breathtaking and distinctive landscape. It is situated between the Mediterranean Sea and the delta of the Rhône River. The region is characteristzed by vast salt marshes, reed beds, and the presence of free-roaming white horses. Not to mention, Camargue harbors hundreds of bird species, including the majestic pink flamingo. 
Sports & Lifestyle in France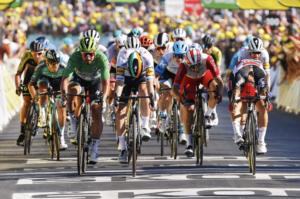 Sports are definitely a cornerstone of French culture, with tennis, football, and cycling ranking amongst the most popular nationally. 
Tennis: Tennis holds a significant place in French culture, with a legacy spanning many decades. France has made substantial contributions to the sport's development, highlighted by the prestigious French Open. This international tournament is one of the four Grand Slam events, along with the Australian Open, Wimbledon Championships, and the U.S. Open.
Football: Football is one of the most beloved sport in France, and is generally overseen by the French Football Federation (FFF). This national governing body manages all aspects of football, from amateur to professional levels. France has a strong historical presence in FIFA World Cup competitions, consistently performing well on the international stage.
Cycling: France is practically synonyms with cycling, hosting the renowned Tour de France. This annual cycling competition spans three weeks, encompassing various stages that traverse the Pyrenees and the Alps before coming to a finish at the Champs-Élysées in Paris. 
Visas and Residency 
Visas and residency in France vary depending on your nationality, intended length of stay, and purpose for being in the country. If you're a citizen of a European Union (EU) or European Economic Area (EEA) member state, you can live and work in France without a visa or residence permit.
How can I move to France as a non EU citizen? 
For non-EU nationals, there are several visa categories, such as tourist visas, student visas, and work visas, each with specific requirements. To become a permanent resident, you may need to live in France for several years under a long-stay visa. You will need to meet certain conditions, including language proficiency and certain metrics of integration into French society. Dealing with the bureaucracy in France can be a challenge, as governmental processes are quite lengthy. 
For those seeking French citizenship, you typically need to have lived in France for at least five years (sometimes less in specific cases, like marriage to a French citizen) and demonstrate your commitment to the French way of life. France has strict immigration laws and policies about expats living in France, so it's crucial to consult with the French consulate or embassy in your home country or seek legal advice.
Renting an apartment in France can be difficult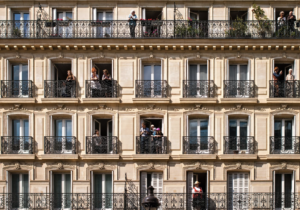 When moving to France to work, securing a rental can be a challenging process. This can be even more challenging if you are moving to France to study. When working with a real estate agent, or "agent immobilier", you'll typically encounter administration fees covering services like property search, viewing arrangements, lease agreements, and key handovers. Additionally, you'll need to provide essential documentation, including a passport or valid ID, proof of French residency status, and proof of income, usually in the form of three months' bank statements. If you've previously rented in France, references from past landlords may also be required. 
Renting directly from a landlord (particulier à particulier) is a more cost-effective option, but it can carry higher risks if not handled correctly. Thorough contract arrangements are crucial. Additionally, most rentals through private landlords in France are for unfurnished properties.
Attempting to secure a rental from abroad can be almost impossible, with many French agencies unresponsive. Many expats moving to France book lodging through platforms like Airbnb for their initial weeks in France to simplify the process. 
Urban Campus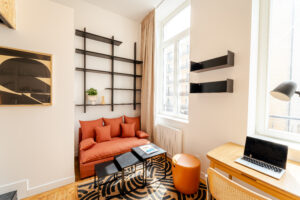 If you're on the hunt for the ideal place to live in France, consider Urban Campus your ultimate solution. With coliving spaces spread across various French cities, we offer an array of private rooms and studios to suit your preferences. Our facilities have inviting common areas like lounges, patios, gyms, coworking spaces, and entertainment rooms, fostering a vibrant community atmosphere. You also have the opportunity to connect with fellow young professionals through our organized events. 
What makes Urban Campus truly hassle-free is our all-inclusive approach – from furniture and WiFi to electricity, cleaning services, and laundry, everything is conveniently bundled into a single bill. Plus, our seamless and virtual booking process simplifies everything. Check out our coliving spaces and get ready for your move to France.