Recently, I had the opportunity to discuss the evolving concept of coliving on the French podcast "Being Useful" by SudRadio. This platform allowed me to delve into the benefits of shared living, and why coliving is a practical and innovative solution in today's modern society. 
What is Shared Living?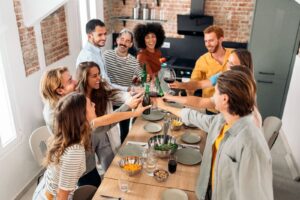 Generally speaking, shared living is an innovative approach to housing that redefines the traditional concept of a home. It involves individuals living together in a shared space, where they not only share the physical space but also experiences, resources, and often values. 
There are many different types of shared living. Coliving has become one of the most popular in recent years. In coliving spaces, residents have access to areas like common kitchens, lounges, cinema rooms and coworking spaces. These spaces facilitate a blend of private and communal living. It's a concept that taps into the sharing economy, aiming to make housing more affordable and socially enriching.
The Benefits of Shared Living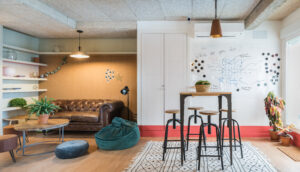 During the pandemic, confined largely to my home, the benefits of shared living became abundantly clear to me. I envisioned what I desired in a future living space. This included a dedicated area for remote work, an outdoor area for gardening and fresh air, a gym for exercise, and a well-equipped kitchen for cooking. In a city like Paris, where real estate is incredibly costly, owning such amenities individually is nearly unfeasible.
Shared Resources for Collective Value
Coliving offers a sustainable solution by offering shared high-quality spaces. You have access to spaces like fitness centers, coworking areas, movie theaters, and rooftop terraces, all while still having your own private room, studio or apartment. Coliving makes luxury living accessible and affordable. It provides far more amenities and space than available in a traditional rental for the same cost. 
Redefining Housing and Space Utilization
Coliving is not just about sharing space; it's about rethinking our relationship with private and communal areas. It's the application of the sharing economy to residential living. In coliving spaces, every square meter is optimized for maximum utility. Areas typically underutilized in conventional buildings, like basements and attics, are transformed into vibrant common areas, games rooms, or gyms. This approach redistributes the value of space, creating communal areas for maximum value and enjoyment. 
Enhancing the Rental Experience
The traditional rental process in large cities can be daunting and impersonal. Coliving simplifies this with a paperless, efficient booking system. At Urban Campus, our platform facilitates everything from safe payments to community event subscriptions, offering a transparent and seamless living experience. This convenience is a primary reason why individuals opt for coliving.
Not to mention, all of our Urban Campus coliving spaces come completely equipped and furnished. Our units are move-in ready from the first day of your booking, right down to forks, knives and spoons. Plus, additional services like utilities, cleaning, wifi, laundry, and Netflix are all included in the price of your monthly rent, making the coliving experience even more convenient. 
Combating Loneliness and Fostering Community
In major cities, loneliness is an increasing concern, with many households comprising single individuals or childless couples. Coliving addresses this issue by designing spaces that promote interaction and human connection, countering the isolation typically found in big cities. 
Our Urban Campus coliving spaces have demonstrated the profound benefits of shared living, from inspiring new friendships to sparking entrepreneurial ventures. The emphasis on community building, mutual support, and personal growth creates a living environment where over 95% of our residents have reported feeling happier and less lonely.
Ultimately, coliving is about re-learning to live together, embracing the African proverb, "If you want to go fast, go alone, if you want to go far, go together." It's a journey towards a more connected, fulfilling, and sustainable way of living.
Explore more about Urban Campus coliving spaces: