Hey there, fellow Christmas enthusiasts! 
Are you ready to explore the best Christmas markets in Europe? In this article, we'll take a dive into the most enchanting Christmas experiences that Europe has to offer. From the aroma of mulled wine to the twinkling lights and festive crafts, each European Christmas market has its own unique charm. 
Get ready to add these destinations to your holiday bucket list 🎄
Which European country has the best Christmas markets?
Of course, determining the best Christmas markets in Europe is subjective and varies completely based on personal preferences. However, many often applaud Germany for its enchanting Christmas markets, with cities like Cologne, Berlin, and Nuremberg frequently topping the lists. These markets are renowned for their traditional charm, festive decorations, and wide range of seasonal treats and crafts.
The Best Christmas Markets in Europe 
Nuremberg, Germany
The Nuremberg Christkindlesmarkt is one of the oldest Christmas markets in the world, and typically runs from the last Friday in November until December 24th. The market is known for its distinctive red and white clothed booths. Every year, the famous Christkind opens the market with a prologue. Visitors can enjoy Nuremberg sausages, Lebkuchen (gingerbread), and unique ornaments made by local artisans.
Dates 2023: December 1 – December 24, 2023
Strasbourg, France
Strasbourg's Christmas market is renowned for its blend of French and German cultures. The market typically runs from the end of November until Christmas Eve. Key attractions include Alsatian German Christmas delicacies, handcrafted ornaments, and the Great Christmas Tree at Place Kléber. The market is set against the stunning backdrop of Strasbourg Cathedral. 
Dates 2023: November 24th – December 24th, 2023
Vienna, Austria
Vienna's Christmas markets always rank high on the list of best Christmas markets in Europe. Imagine an environment filled with romance, warmth and holiday joy. The Rathausplatz market, set in front of the City Hall, is notable for its spectacular light displays and the array of hand-painted Christmas decorations. Visitors can indulge in traditional Austrian treats like Sachertorte and Glühwein (mulled wine).
Dates 2023: November 10th to December 26th
Prague, Czech Republic
Prague's Christmas markets usually start in late November and continue until early January. The Old Town Square market is famous for its giant Christmas tree and traditional Czech marionettes. The market offers a variety of handmade jewelry, wooden toys, and local specialties like Trdelník (a rolled pastry). The Prague Christmas Market is also a culinary delight, offering visitors the chance to indulge in traditional Czech foods such as roast meats, sweet pastries, and the famous hot mulled wine, known locally as svařák. 
Dates 2023: December 2, 2023 – January 6, 2024
Budapest, Hungary
The Budapest Christmas Fair typically opens in early November and runs until January 1st. It is located in the expansive Vörösmarty Square. This market is famous for its handmade gifts, intricate ceramics, and Hungarian foods like Kürtőskalács (chimney cake). 
Plus, visitors in Budapest can complement their holiday shopping with a visit to the city's famous thermal baths! The Széchenyi Thermal Bath provides a warm, soothing retreat amidst the chilly winter atmosphere. Guests can soak in various indoor and outdoor pools, all naturally heated by thermal springs.
Dates 2023: November 17, 2023 – January 01, 2024
The History of Christmas Markets in Europe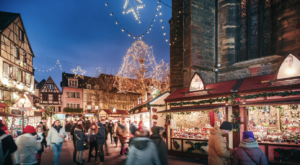 The history of Christmas markets in Europe is rich and varied, rooted in medieval traditions. These markets originated in the German-speaking parts of Europe during the Middle Ages. They served as a means for people to stock up on goods and supplies for the winter months.
Over time, they evolved into the festive gatherings we know today, combining commerce with celebration. By the late 1960s and 1970s, Christmas markets began opening as early as the last weekend in November. This offered an extended period for shoppers to indulge in the holiday spirit and purchase special items.
In recent years, these markets have become a staple in many European countries, transcending their German origins. Each market now showcases its own blend of local culture, traditional crafts, and festive foods. 
Honorable Mention: The Best Christmas Markets in Europe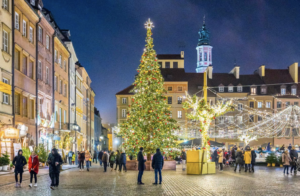 Although not topping the list, here are some other notable and impressive Christmas markets in Europe that you won't regret visiting.
Mainz, Germany: Mainz Christmas Market is a wonderful experience, offering a cozy and traditional atmosphere. It's known for its beautiful Christmas light shows and a wide array of handcrafted items.
Barcelona, Spain: The Fira de Santa Llúcia in Barcelona offers a unique Catalan Christmas experience. It's famous for its elaborate nativity scenes and traditional Catalan Christmas items. Be sure to try the "Escudella de Galets," a hearty soup that features large, snail-shaped pasta shells known as galets.
Florence, Italy: Florence's Christmas market, inspired by German traditions, is nestled in the picturesque Piazza Santa Croce. It's a great place to find Italian Christmas sweets and handcrafted gifts.
Krakow, Poland: Krakow's Christmas market is known for its traditional Polish ambiance and stunning medieval square setting. Visitors can enjoy unique Polish crafts and delicious local food.
Tallinn, Estonia: The Christmas market in Tallinn is a fairy tale come to life, nestled within medieval Old Town architecture. It's particularly famous for its handmade Estonian crafts.
Helsinki, Finland: Helsinki's Christmas market offers a blend of Finnish tradition and modern, flashy Christmas visuals. It's a great place to find Finnish-inspired gifts and enjoy local seasonal delicacies.
Málaga, Spain: The Christmas market in Málaga stands out for its vibrant light displays and lively atmosphere. It's a fantastic blend of authentic Spanish culture and modern holiday traditions.
Where is the most Christmassy place in Europe?
Here are some additional European cities renowned for their Christmas spirit. These cities are always worth a visit during the holidays season: 
Christmas Markets near Urban Campus coliving spaces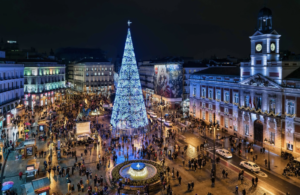 Madrid, Spain
Madrid's Plaza Mayor Christmas Market is a standout in Europe, transforming the city's main square into a vibrant marketplace with endless stalls. It features a diverse array of Nativity scene figures and traditional Christmas decorations. Another charming spot is the Madrid Río Christmas Market, which offers a cozy ambiance with food stalls, a carousel, and a large Christmas tree. The location is ideal for family-friendly holiday activities.
Valencia, Spain
Valencia's Christmas market, located around the Mercado Central, is a traditional market practically overflowing with local vendors. Visitors can explore a variety of local crafts, gifts, and festive foods, all set in the charming streets of this historic old town. Don't forget to explore the festive lights strung throughout the Plaza del Ayuntamiento. 
Lille, France
Lille's Christmas Market is a major attraction. The market draws over 900,000 visitors each year to its splendid stalls and city decorations. Located in the heart of the city, it's known for its marvelous lights, diverse range of stalls, and the overall enchanting holiday atmosphere. The Lille Christmas market is a true embodiment of French holiday charm, offering a delightful mix of traditional crafts, regional delicacies, and joyful activities for all ages.